This absolutely mint 1972 Skidoo 300 Olympic Standard will be up for raffle at the LIVE ON SKIS ride in Lapeer Michigan on February 13th, 2010.
It came right from the original owner, and was kept in a heated carpeted garage. We can't find anything damaged – and the only thing "wrong" is that it is missing the engine/carb covering. It Runs and looks fantastic!
The standard Oly has the sleek style seat just like the TNT, and has the fixed headlight. Comes with a mint condition matching OEM Cover and original tool kit.
Raffle tickets will be sold THIS WEEKEND at the A-1 for just $5 each! This sled will be at other events throughout the season and tickets can be purchased by contacting me, LIVE ON SKIS Lapeer Michigan host Doug Lubahn.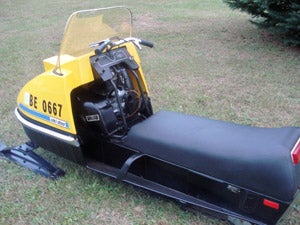 Proceeds from the raffle will go to benefit both MAW (a fantastic Michigan based handicapped hunters organization) and Wheelin Team 457
Drawing will be held at the LOS Lapeer Event- need not be present to win.