For those of you with a stack of old sled magazines and newspapers laying around (AKA 'Sled Porn'), do you ever look at the cover and go "Mmm, I wonder where that sled is?"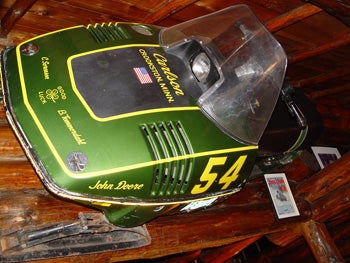 Jon Carlson's "Race & Rally" Deere.
Looking at all the old Race & Rally's, one could imagine spending years trying to track them all down – that is each sled that was ever on the cover. One could also imagine that this would be an exercise in futility, as many have been crushed, or in some fashion removed from the planet. Like the 1974 cover featuring a 74 Yamaha SnoPro. Or the 76 cover featuring Mike Trapp on his 76 Ski-Doo SnoPro. Both sleds, by all accounts, are gone, never to be seen again.
Then again, every once in awhile you get lucky and one falls into your lap.
That's exactly what happened to me just a few days ago. I took a trip to visit with Jon Carlson, my camera in tow. Jon, as very many of you know, is a member of the legendary John Deere Enduro team from the 1970's. He now works for Textron and has a pretty sweet collection of race sleds from John Deere, Ski-Doo, Polaris and Arctic cat.
What I didn't know, nor expect, was that Jon had the sled he is pictured on from a Race & Rally magazine in his possession. Not only is it in his possession, but it's hanging from his living room ceiling as the center piece of the house! Complete with a framed version of the Race & Rally cover! Possibly the best sled display I have yet witnessed.
In case your wondering (as I did), yes, Jon's wife was all for hanging the sled there, although she's not likely to be found on the chair directly beneath it. After meeting Jon's wife, I would also have to add that Jon is one very blessed man.
Jon's collection will be featured here on the site soon. Right after I show you what's lurking in an unassuming red building on the Iron Range. Here's a hint: It rhymes with Borpion. Okay, Borpion is not a word, but what the heck rhymes with Scorpion?