Ken Jacobson sent in some more classic, really fascinating pictures from West Yellowstone in 1970. Some how as a young man, Ken figured out to take pictures of the really interesting stuff and save it for decades… pretty cool.
First up is a sled only mentioned in legend and rumors. The ill-fated Polaris NX. Yes, an NX. It was to be the new "Colt" but early testing was not so good. Even though many of the parts went into production, the sled itself never made it that far. Years ago while digging through Bud McCullums salvage yard, I found all kinds of parts for the NX, but until today I never seen a complete sled. There is one in Roseau I hear…
Update: I've been informed that this is not likely to be the NX. I'm hoping to get some photos soon.
This fellow is a 69 racer… with a twist. That's one of the first new "Star" engines in the one labeled 567B. The motor did not set the world on fire that day in West Yellowstone. But twins and triples that would follow sure would.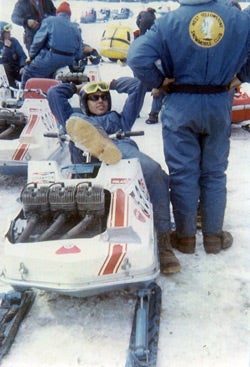 That's just Bob Eastman relaxing before he goes out and stomps on the other 800's 650's at West Yellowstone in 1970.
My thanks again to Ken Jacobsen for sharing these really great photos!