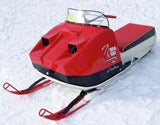 When I put this site up in 2000 2001, I thought I'd play with it, throw up some photos, post a story or two and that would be it.
Oh how wrong I was.
Fast forward to 2009 and I'm just a year two years away from my 10th anniversary of vintagesleds.com, and this thing hasn't stopped growing. December was another record month for new visitors to the site.
Despite the interruption to the Bull Sessions (it was off for a week as we cleaned it up and changed the name to SledTalk 24/7), traffic is up again, and we exceeded our allotted bandwidth this month – twice.
I'm not bragging about any of that. I'm just humbled and sincerely want to say "Thank you".
We've been working hard on a newer, faster, better, much more interactive website for some time now. But to implement those features, we had to build a new "foundation" for the website that would allow us to keep adding on. Today the first part of the foundation is completed – with many thanks to Brandon Johnson for all the content moves and testing, and to J.D. Henderickson for solving a very tricky layout issue.
Note to JD: I think all my whining about the footer paid off. 😉
Our first new feature I intend to demonstrate February 14th at "Live on Skis" in International Falls, Minnesota. No details now, but a few SledTalk 24/7 members got a tiny glimpse the other night when I accidentally left a link to it in the menu. Suffice to say the new feature is all about you, less about me.
Finally, all of us here at Vintagesleds.com wish you and yours a happy new year. If the recent perfect winter weather is any indication, 2009 is going to be a great year!
Now with this much snow around – let's get out there and ride!
*Version numbers are a bad thing. Websites never stop changing so why add an expiration date? I just put the number on here to denote the structure and style of the website are different.