In trying to identify the original driver of a 78 440X Polaris RXL, I told the story of Todd Elmer smashing one of Steve Thorsen's 78 RXL 440's in West Yellowstone in 1978. Here's some more photos of that accident, from a Snotrack magazine, and from Mike Johnson:
| | | | |
| --- | --- | --- | --- |
| | | | |
| Abold driver Ray Riznick rounds the corner. | Riznick's steering snaps. | Riznick smashes the inside wall. | |
| | | | |
| Todd Elmer hits Riznick's disabled sled and flys ass over tea kettle. Both drivers walked away from this! | The 440X Elmer was driving is badly damaged? Maybe not! | Riznick's Cat took most of the impact, smashing the tunnel all the way to the gas tank. | |
| | | | |
| | | | |
What do these pictures tell us? Plenty! The close up Elmer's (Thorsen's) sled shows it is clearly a magnesium bulkhead – the normally aluminum RXL's would show up bright and shiny like the tie rods, but instead are blackened, discolored magnesium. This is clearly one of the 440X sleds.
THOSE ARE NOT FLAMES coming out of the sled – no, that's were my cat vomited on the photo, then licked the vomit and some of the photo off. But before the "vomit incident", I could tell the gas tank had inlets on top of the tank, instead of the front… they way Thorsen had his. The Bunke sled and photos I've found of Hulings' sled had them in front of the tank.
The handlebars do not appear to be Thorson's but I cannot tell. My chassis has some beefed up shock towers that this chassis does not have.. Bottom line, this photo raises more questions then it answers…
I'll have to keep digging. But that's the fun part!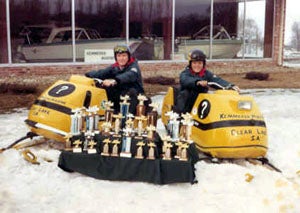 Just for the fun of it – Mark Kemmerer and his brother "back in the day" on their prize winning racers!
Rare, original 1978 Arctic Cat SnoPro Army team hood! The current owner just likes it hanging on his wall. It does really look nice there!

One of these sleds was found when the owner went to blast the black paint off and found the blue underneath. Will sled and hood ever be reunited?

Only the Shadow knows!