Bet you thought I forgot all about this story huh? I blame winter. There was so much going on with the great winter we had, it was tough to keep up with any of it. But this story has been one I've been itching to get back to. So here goes…
When we last left off, I wrote about the "Odd Man Out" – that is the most unique of the 74 Cat SnoPro machines, the one and only twin tracker. I left off wondering where are the rest of these slick machines?
Before we get started on where they are, let's recap shall we?
I have pretty valid reports that as many as 20 of these chassis were built. But the four factory drivers each drove in just two classes – so only 8 of the 20 machines was actually raced by Larry Coltom, Charlie Lofton, Dave Thompson and Tom Marks. So what happened to the other 12? Well, the best reports I currently have is that all 12 were systematically crushed with a back-hoe and destroyed.
I also have reports that some, maybe all of them, were then dug up and, well, borrowed. That's a good thing – it means that they may have survived! Even if the the "dirty dozen" didn't get raced, they are still very, very unique machines and worthy of a spot in any collection.
Todd Deloria sent in these photos of what has to be a 1974 Cat SnoPro, no question. But was it raced? There's no real way of telling. Was it crushed at one time? Absolutely. But even so, Todd is going to take on the challenge of bringing this baby back to life. It looks like a real challenge, but I bet he can pull it off.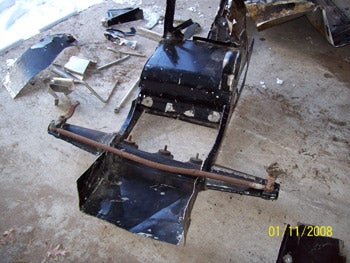 No question this is a 74 Cat SnoPro, note the round-tube front axle and driven clutch socket.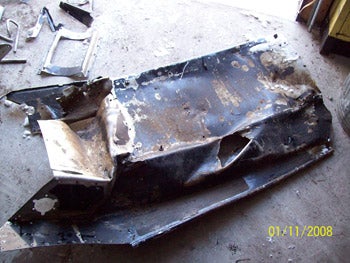 The Tunnel that was on it – sure looks like she was crushed. There was also a tag on it, and that serial number indicated it was something special.
The pan from the machine.
There was many more pictures that Todd was nice enough to share, but I just wanted to get enough up to give you an idea on what he's got. He also sent along a photo of the tag, and asked that I not publish that – which I understand completely. The number clearly indicates this is a 74 SnoPro. I think it's also pretty good evidence that some of them were crushed…
But what about the ones that were not!
That's next, I promise.