Talk about a game changer. The "Karpik Special" Ski-Doo would have radically altered the snowmobile landscape in the late 1980's, but for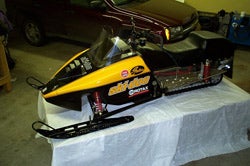 whatever reason, Ski-Doo did not make a production version. According to owner Patrick Zeltinger, just three of these sleds were ever built. You can look in any of the old books and magazines and see that the first year these sleds were raced, they won a ton of races in the then new "Sno-Cross" format.
Patrick Zeltinger bought the parts – enough for three total sleds, all torn apart, in 1987 from Randy Karpik. The first one he has nearly assembled has an original hood, belly pan, seat, gas tank, skis, front suspension, and most of the rear suspension.
Patrick is hoping to have it done and at Waconia in time, but he's not sure if he can make it. Hope so. Very cool sled.