This past weekend, a brave and hearty group of souls, who all wanted to help the Snowmobile Hall of Fame, braved the weather and the ever present danger of a broken down sled to ride over 150 miles in a single day on sleds over 30 years old!
I had been looking forward to this ride all year long. In fact, I set out last spring to build a special sled just for the ride. But my first idea turned out to be not so clever, and I never got anywhere near getting it done on time.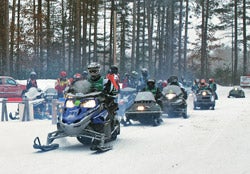 No problem, several people offered me sleds – my thanks to Jon Carlson and Roger Jordan amongst other for the offers to ride their sleds. But when it came time to head out of town last weekend, I'm afraid work got in the way of the hobby, and I found myself working all day Saturday.
The stories about the weekend started pouring in over the next few days, and I've been following them ever since. With each new story I read, I am regretting not being there more and more.
Roger Jordan's account of the very long vintage ride was a great read, and I want to thank him here personally for putting that all up.
What I gathered was that the biggest majority of the vintage sleds that went on the ride made it all the way there and back. One of the few who did not was the aforementioned Jon Carlson, who lost a clutch. Probably the one part no one had extras of.
The other notable experience I read about was being able to sit with so many of the guys that actually ran the race from Winnipeg to St. Paul on the old leaf springs sled back in the day. Those stories are priceless and again and I'm bummed I missed them.
Well, I won't let those guys have all the fun. The way I look at it, I've got 360 some days to get ready for next year.
Here's some more photos of the event: Click them to see a larger version.