From BS member TooCheapToSmoke:
Never heard of the 1973 Mercury Slo-Pro? Few have, it's one of the many lost chapters in snowmobile racing history.
During the summer of 1972 a small group at Mercury began work on their 650 class race sled. They decided to use the venerable 644cc hurricane engine as a power plant, with a few modifications. The engine would be converted to "free-air" cooling, and the carburetor configured in a "ram-air" arrangement. This engine was already pushing an astounding 35 h.p. in stock trim. The chassis would remain true to Mercury's heritage of heavy duty construction. A 42" ski stance was added for stability, as one man alone would have struggled to upright it, should it be over turned.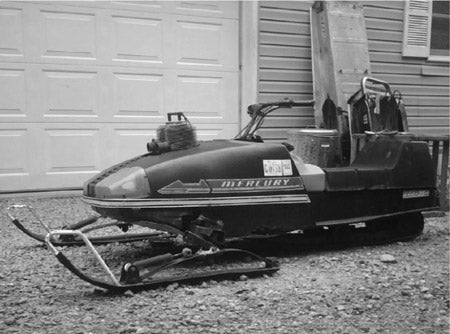 As the winter of 72/73 arrived the Mercury team eagerly awaited the snow to begin testing. The first oval race of the year did not go well, the race ended before the Slo-Pro had a chance to reach cruising speed.
The Mercury team was not about to give up though. Surely cross country racing was where the heavy Mercury would shine, it had outstanding durability. Unfortunately, certain DOT restrictions kept the Slo-Pro from being competitive in cross country racing as well.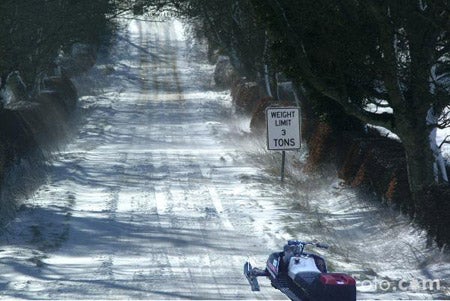 The Mercury team did not want to end their season early, but a mysterious rash of lower back injuries and axle bearing failures brought it to an abrupt close. Because of the utter failure of the Slo-Pro, Mercury decided to go completely in the opposite direction for '74. The Merc Sno-Twister was born.
Alright, if you haven't figured it out by now, all that above is BS. Since I made my own "what if" sled, I also had to make up a back story for it, right?
Basically it's a combination of parts I had waiting to be scrapped, but I didn't have the heart to scrap them. Hood, seat, and engine are '72 merc hurricane. Chassis is '77 lynx. Somebody already widened the lynx chassis before I got it.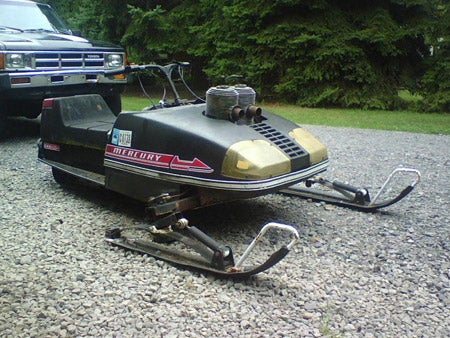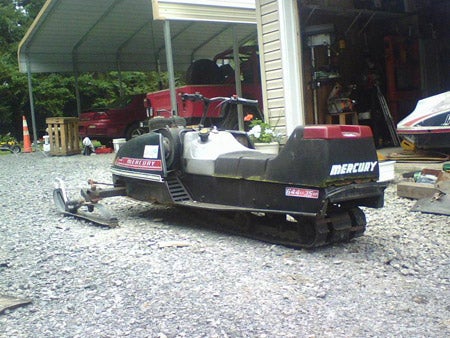 The engine is the 644cc Kiekafer from the merc, converted to free air. Custom motor mounts (read: scrap) and a 90 degree carb adapter. I threw away the stock ignition and made my own from rotax and fuji parts. I was going to make a custom exhaust from flex pipe, but that stuff is expensive, and just not in the budget yet.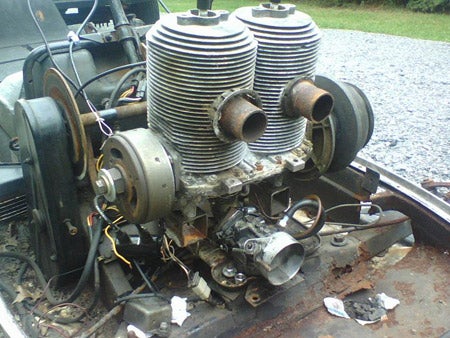 My thanks to TooCheap for the laugh!