In the world of vintage collecting and racing we sometimes lose our way, or do we?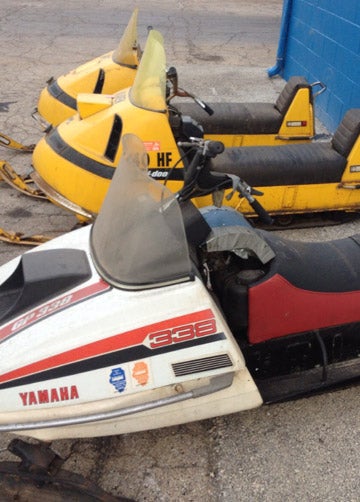 I live in the suburbs of Chicago, Most every weekend I make the trek to the north woods of Wisconsin to visit my folks who have retired there. Nary a ride goes by where I don't jump off the interstate to travel the back roads. I know where the sled guys are and you never know when you may spot that glitter of chrome in some weeds adjacent to that farmers barn that may produce the forgotten about muscle sled from the past.
If your on this website and reading this you know exactly what I'm talking about, The elusive barn find, the "deal", the sled that you can load in your truck then drive over to your buddies house and say "look what I found!"
If your like me the reward is the journey, not just the destination. You hear about the sled, then ask when you can see the sled, then try and strike a deal to get the sled. It all part of the process.
I have had some good fortune finding sleds, The best was a free 1978 Ski-Doo SnoPro. I have also been subject to overpaying for race sleds as well – again it's just part of the process.
The one thing that's never lost on me is how I feel when someone says, "Hey I found a sled for you". You wonder what it's going to be. Is it a Roll o Flex? Allouette Villain? or is it a 1970 Olympic?
Funny thing for me is I will restore anything, I have what I consider to be some of the nicest Twin Tracks and SnoPros that can be found. But I love the consumer sleds as well. Like me I'm sure this is what most of you can relate to as this is what our parents had
The beauty of the consumer sleds is they are easy to find and won't drain the pocketbook, Anyone who has searched for 250 Rotax SnoPro pistons, Knows that finding the high end stuff can be as much fun as a colonoscopy.
Last week I got a call from a friend of mine who is a John Deere tractor collector, He's always in barns. He knows vintage and can restore better than anyone. Problem is he knows vintage tractors, not snowmobiles. Don't get me wrong it's an awesome hobby and his collection could be in the Smithsonian. But alas, he does not know vintage sleds.
The picture that I have posted is that of some pretty common 1970 Olys and a Yamaha. All three in nice shape for a restore and he offered one up to me for 150 bucks. The thought of any old sled excites me, I'm pretty sure you can relate to this addiction. Even my race buddies have these kinds of sleds just to vintage ride.
So here I am at my friends garage looking at this 1970 Olympic when I should really be finishing up the 1982 Ski-doo SnoPro I have been restoring, But I'm at his barn looking at this very common sled, as I walkup to what are two very complete Ski-Doo Olys with all the parts intact including the air boxes, I think to myself just leave you don't need these. As a matter of fact I already have a very nice one in my collection.
That's when I notice something that Immediately made these old doo's worth while and took me back to being a 5 year old again. For many years I have been keeping an eye out for my old sleds. One a Rupp 44 Sprint, the other a Ski-Doo. These sleds would be easy for me to spot due to the work of my dad. He was a sheet metal worker and was a brilliant fabricator. He made custom gas cans that would hold an extra two gallons of gas the fit in odd places under the hood.
These were not my old sleds.
But the thing that was cool is the Ski-Doos were purchased at the same dealership that my dad bought our Ski-Doos at years ago. And these sleds had the "Thede" Marine plastic dealer logo right where I remember them when I was a kid. I remember going to that dealership with dad and admiring the 340 Blizzard the owner had in the showroom. That logo was worth more than the sled, and this time I over paid for a logo of all things! But the beauty is in the memories that logo brings back.
It then dawned on me that out of all my fancy sleds, and the continuous searching for more, that the beauty isn't in the serial number, or low production of a collector sled. The beauty is in anything with two skis and a track.
Ride on!
Ramblin' Ray