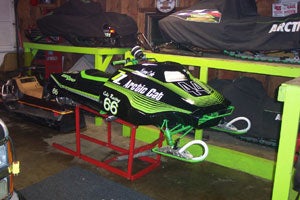 12/23/2005
A few weeks back I posted Kurt Andrews 73 Starfire sprint machine. I jokingly asked if there were more on the way.. lo and behold, Kvon Cole sent in photos of his custom built 1977 Z Ice drag sled. Pretty darn cool looking Mr. Cole. Is that on it's way to the Waconia Drags?
Speaking of Waconia… big news in the form of some the biggest Eastern collectors are on the way West for the big event. Rumor has it that 3 of the biggest name collectors from the East Coast will be making the trek across country, sleds in tow! This is a once in a lifetime chance for most of us in the Midwest to see some of the rarest sleds that normally prowl about at only eastern shows. I can't wait!
Oh, who is coming you ask? Well I'm not at liberty to say just yet, but I'll drop some hints on the sleds. Saturday at Waconia is a special tribute to all kinds of "twin track" sleds. One of the rarest may be coming. Hint: It's black. Also some very rare SnoPros originally driven by two brothers.
Speaking of East and West shows – what does everyone think of the show announced in the latest issue of the VSCA? Each year they want to have a "World Championship" vintage show, and have it be a traveling show in the East, in canada, out West, just so everyone gets a chance each year. The first show they are suggesting will be in a really, really great in door facility in Thief River Falls, where one sled will be crowned the champion until next year. I think this is GREAT idea that sounds like a lot of fun!