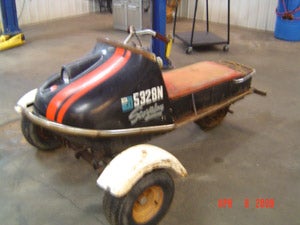 T.J's Hornet with the wheel kit got several people stirred up about old sleds with wheel kits. If we don't get some snow soon, perhaps we'll all have to convert them over. Mmmm… I wonder what an RXL with a wheel kit would be like?
Scott Carmen sent in this video, and here's what he has to tell us about it:
"This is a rare on road attachment for a snowmobile. It's on a 1969 Scorpion Mark II, with a 297 sachs single. The wheel kit is from the day and is a "Wunder Wheels" kit
We sort of high jacked this machine from a friends place, as he would not have put it in service. He and his brother have an extensive collection of ORIGINALS, and they are either RARE or different originals. They Have everything from 71 EXT's to big mouths with 650 RED BARON, to 74 Harley, to one of DARCY EWING's twin tracks, the number 02 serial 1982 Ski Doo Sno-Pro and many others. They have many of the machines that they actually raced like 71 EXT, 73 MAGNUM, and 75 245.
They are not very boisterous people and sort of lay low, that is where I step in – LOL
This Scorpion came to them from the original owner, It has never seen the snow. The original owner took his motorcycle road test in 1970 with this and it was never ridden after 1971.
Myself and 2 other vintage nuts went to pick up some other sleds and parts, and saw this in the garage. We told him we would take it and get it running and ride able again, he could not understand why we would waste our time on some thing like that.
Anyhow, a few months back at our "Wednesday Wackey Wankel riders" meeting, we found ourselves cleaning points, changing the coil and condenser, buffing the hood (kept all the original numbers) and putting newer tires on.
Then we all took a ride, the following video clip is of one of those rides."