Originally Posted 9.08.2011 by Richard Gehl (ACSCC Member #1309)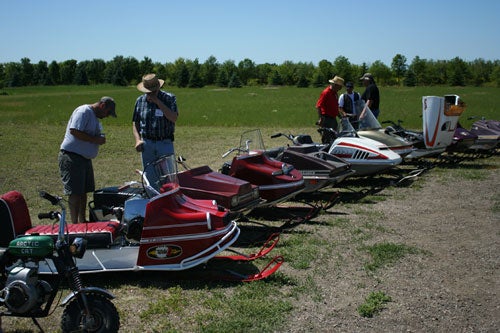 July 17th of this year marked the second Roll-O-Flex Reunion of what promises to be a yearly event. The inaugural reunion came to light as one of the former employees was coming into Regina to visit family and contacted me to come to my farm to have a look at some of my Roll-O-Flex collection.
With only days to plan this before his arrival we only managed to organize a dozen local sled collectors. With a full 12 months to plan for this year I secured a much better turnout that I hope to expand for next year. The 2011 Reunion was held at my family farm just 6 miles north of Regina, Saskatchewan which many will know as the home of Roll-O-Flex snowmobiles and just a mere single mile from where the engineers conducted sound and performance testing in the summer before production began in the fall during the 4 years of production.
The weather cooperated with us and was a great time attended by some 50 people. There was a humble array of almost 30 snowmobiles from local collectors with the majority of them being the marquee brand of the event. To compliment these sleds we had some great memorabilia provided by the Roll-O-Flex alumni that was on display from factory dyno sheets, to personal photographs to surviving race bibs and business cards. Along with these great pieces of history were some reproduction parts including decals, hood, belly pan, foot grip pads and various snow flaps for many models.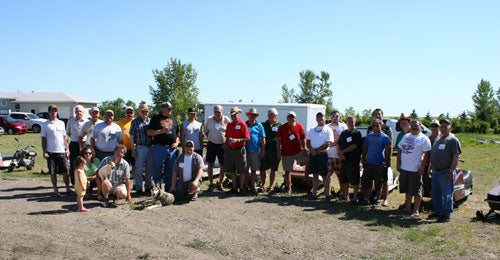 The day started shortly after noon with some locals unloading sleds and the arrival of our guests of honor from Roll-O-Flex. In attendance from Roll-O-Flex were Gene Glaze – Vice President & Race Team, Herb "Paddy" Padwick Jr. – Production Manager, Wade Collins – Research and Development & Race Team, Bob "moose" Sanjenko – Research and Development & Race Team, Barry Thuen – Technical Advisor & Race Team, Lyle Renner – Production & Assembly
As these men of honor arrived there was many handshakes exchanged along with discussions of how they have all lived their respective lives since the close of the factory where they shared a common bond and love. Most of them had not seen each other since the early 80's and a few as far back as the year the factory closed, 1974. After every one was filled in on family lives and such their attention turned to all the snowmobiles parked out along the grass. There was many great discussions exchanged between the men who designed the sleds and the collectors who love them, which I know resulted in some valuable information being exchanged.
As they moved along the line of almost 20 Roll-O-Flex's the center of focus came upon the beast of their racing efforts, the 1972 purpose built factory race sled that housed a 793 Hirth free air triple. I can only describe it as absolutely intimidating with a custom hood that has a large scoop in the front that has 3 polished ram tubes protruding which are ram air style entry way to the reversed cylinders that have 3 hand built original expansion chambers that come from the driver side of the motor and wrap under the motor plate to exit just under the front bumper. This machine is owned by local collector Blaine Cooper who rescued it a only 3 years ago. We were all fortunate enough to witness the first public puff of smoke that this motor has spit out in decades. It was a sight and sound that was second to none.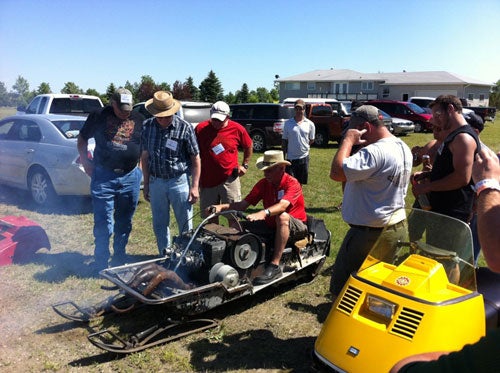 After the excitement of the "Honker" making us all a bit more hard of hearing, we were treated with many great stories and memories that were shared by the employees of years past. From stories of driving back from races in storms, to the disappointment of race crashes and subsequent hospital visits, to my personal favorites of the many pranks that were played on the unsuspecting at the factory. It was a wonderful event filled with great memories to what will become lasting friendships with people who created a great Canadian snowmobile brand that never was able to show the full potential of the great minds behind it.
p>With all attendees holding a rum and coke up in the air as is tradition, it was announced, "Dollars In"
Richard Gehl
ACSCC Member #1309