The age old question….what does one buy a friend for his wedding?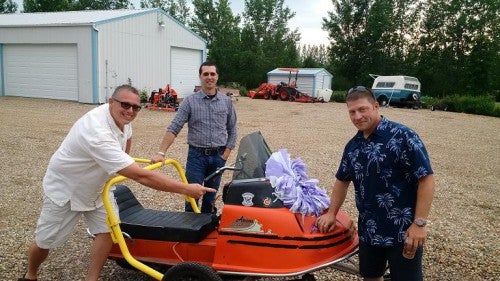 Wedding gifts tend to lean toward the female persuasion yet guys
tend to blissfully disregard this fact, simply thankful that the
event is nearly over. This summer, one of our very own club members
was tying the knot with a wonderful gal and I was left scratching
my head what to buy for a wedding present. Several months before
the wedding a couple of us club members had an impromptu gathering
in a garage and were discussing a very important topic….vintage
sleds. This is nearly a weekly occurrence and during the discussion
there is always a conversation that starts with, "Did you see that
sled for sale" on some website or bargain finder. During this
particular garage session, Blair mentioned he saw an older Ariens
for sale in Alberta. Despite having a very diverse hodgepodge of
vintage sleds in our stables, the Snowflakes did not have an Ariens.
Everyone reading this knows that the vintage sled "sickness" is
fueled by sleds you have never seen or ridden and the guys gathered
that night loaded up the web page and had a look simply out of
curiosity. Blair was smitten with the orange machine in the pictures
and although I think all vintage sleds are cool, I just didn't see
much attractive in that old beast. Beauty is in the eye of the beholder,
however, and despite my misgivings we encouraged him to call the
guy and make the deal. As we were 4 or 5 beers into our gathering
it seemed like a better and better idea to phone the seller,make a
deal and bring the Ariens home. Like most ideas fostered by alcohol,
the call was never made and the idea was soon forgotten.
The wedding loamed closer with each passing day and I was still at a
loss for a gift. My wife was not much help and I was starting to panic.
I was surfing the vintage classifieds (again) and was expanding the
radius to neighboring provinces when I came across that same old Ariens
ad. BOOM… Idea. Of course…the Ariens was the perfect gift for a vintage
sled collector like Blair. I wasn't too sure what his bride would think
but I was content with the knowledge that the majority of gifts would
be mostly for her anyways. This one was for our vintage sled brother
and was sure to bring a smile to his face. I put out a plethora of text
messages to the club and the support was unanimous. We would all throw
in money and make it a club gift. I imagine that the reason for such
unilateral support was because everyone was facing the same dilemma as
I was….what to buy?!?
Now the logistics. We had to go get that sled, bring it home, clean it
up, make it run, hide it from Blair until the wedding and finally sneak
it into the gift area during the ceremony. I made contact with the owner
and he said that the sled had been in the family it's entire life. I
thought his asking price was a little high so I offered him our price and
he declined indicating that the sled held sentimental value for him. During
our conversation it became obvious that he was not a vintage sled guy and
was getting pressure from his wife to get rid of "that old thing". Like
most of us who have "the sickness" badly, I have made many many sled deals
over the years and have learned a trick or two during negotiations.
"Sentimental value, eh?" I thought to myself. "Wife wants it gone, huh?",
I smiled. I explained to the owner that his sled could go to a guy who
fell in love with it months ago and who would surely look after it for
years to come. I explained that we actually have a vintage club and his
sled will be appreciated by us all. I explained that the fact it hasn't
run in years didn't detract from the beauty of the sled (small white lie).
I then went in for the kill and told him it was actually and truly going
to be presented as a wedding gift! I knew I had him when he repeated that
line to his wife as we were on the phone. The deal was done.
Many military campaigns have failed due to poor logistics and this
project almost never came to fruition for the same reason. The sled was
located almost 9 hours away and despite trying to arrange transport several
times, it didn't look like we were going to make our deadline. It is funny
how some people will step up to make good ideas work and in this case, good
old Travis (Kube1) announced that he would make the trip and get the sled
regardless of the distance. How is that for a club member and a friend? He
loaded up his trailer, filled up the truck and made the horribly boring
trip to get it. A mere 16 hours of travelling and he was home with our prize.
The sled was in decent condition and without much effort, it was running.
Travis cleaned it up and we kept it hid away in his trailer until the big day.
On an overcast but pleasant August day, the wedding took place on Blair's
acreage and a few Snowflakes were able to attend. Giggling like school children
we could barely contain ourselves during the ceremony. During intermission we
got the sled from the trailer and wheeled it in place right beside the other
gifts; blankets, towels, cups and saucers. It looked a little out of place but
to us it looked like the best present of the bunch. As we walked back to our
seats we caught Blair's eye from the head table. Realizing we were up to no
good, he strained to see what we had just done in the gift area. For the
second time that day, Blair fell madly in love! He actually excused himself
from the head table and walked straight over to his new vintage prize. He
couldn't believe he now owned the sled he drunkenly admired many months
previous. We had been concerned that the sled would be disruptive at the
wedding because, well, because it was big, out of place and kind of homely
(my opinion). On the contrary, the Ariens was a big success as many guests
took pictures of it and on it. Even after the booze began to flow freely
and Blair started it up several times the majority of the wedding guests
really admired the thoughtfulness of the gift.
The decorations, the giant party tent and the guests are just a pleasant
memory now. That was one great wedding and one hell of a hangover for most
of us. Despite the event fading into memories, one wedding gift will
forever remind us of the joy of vintage snowmobiles and the joy of friendship.
Blair loves that stupid orange machine and he has it tuned and ready for snow.
If you are ever wondering what to buy your friend for his wedding, I highly
suggest a vintage snowmobile! Trust me it isn't a bad idea.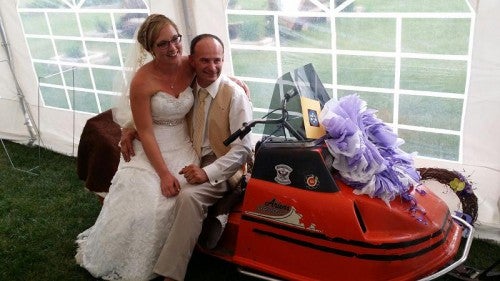 "Recoil"
(The Snowflakes Vintage Snowmobile Club is comprised of 20
members and is located near Saskatoon, Saskatchewan, Canada)