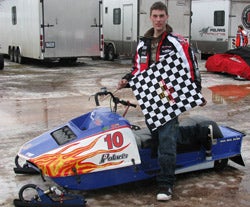 I first noticed Mitch at Eagle River last year, where he stayed in second place in the big final until the leader lost his seat. Pankratz held the lead all the way until the last lap, last corner when Fast Freddie Smith inched past Pankratz in a very exciting race. But I got a better look at him at Sauk Centre last year, where he was very competitive in every class he was in.
But that's not the beginning of the Pankratz racing. No, that goes back to 1974 when cousin Guy Peterson was on the same race team as legendary Merc/Ski-Doo driver Doug Hayes. He also won the stock 400 class on his Merc that year, and a whole lot of other races throughout the midwest that year. He even won the Governors Cup at Ironwood Michigan that year, beating out big name drivers like Eastman and DuHamel.
There are three race drivers this year on Team Mitchell Pankratz: Uncle Randy Pankratz who will run a 1973 340 Polaris Starfire, and 13 year old Cody Pankratz who will be driving a 76 TX. Mtchell's 73 Starfires come in the 340, 440 and 800cc varieties. They will be running the Vintage SnoPro series, including a return to the race in Eagle River this year, and also will be running PVR races around Wisconsin.
Mitchell started racing at age 15 in Northern Wisconsin and with SLEDS in Strathcona. His first year at Eagle River, he won 340 Sport-Mod and took seconds in 440 Sport-mod and 440 Super-mod at only 16 years old. His very near win in the big Eagle River final was awfully good for a 17 year old.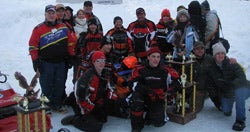 The team's chassis builder is Bob Fredricks from Chippewa Falls, Wisconsin. The motors are done by Paul Niznik from Medford Wisconsin. Mitchell's dad Jeff is largely the funding for the racing endeavors, takes care of the shop and handles a lot of the mechanic duties.
Mitchell is a student at New Richmond Tech where he is studying small engines. He's also building a 1978 RXL to race in 2010. The Pankratz tribe brings 15-20 people to every race to cheer on the team. That's music to any race promoters ears and a testament to the family's commitment.
It's shaping up to be a good year again in vintage racing with teams like this lining up to take a crack at that Hall of Fame Vintage SnoPro cup!