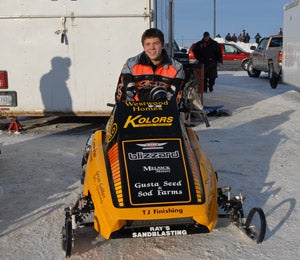 Each year in vintage racing new people come to the forefront as "the big guns". Usually these people have been working hard for years already in near total obscurity.
One year all that hard work pays off and they find themselves way out front. To the casual observer, they look like an overnight success who came out of nowhere. But snowmobile racing is hard. It's a lot of very hard work and very late nights. Generally those who work harder tend to get luckier and luckier. Amazing how that works, isn't it?
Since I've been keeping a pretty close eye on vintage racing over the last few years, I thought I'd share with you some of the guys who I have noticed get better and better each year, and I think this could well be their year.
I'll start today North of the border near Beausejour Manitoba with small team of racers that has been flexing their muscles every year, but are now poised more than ever to do some real damage. Unofficially they are known as Lavoie Racing and this year they have three drivers: Duncan Reid the veteran, Jeff Steenerson the newbie, and rising star Troy Lefko. Wayne Haner is one of the Owner/Mechanics, as is Norman Lavoie who also helps out in the pits. Chris Hayward, Craig Obie and Les Englot also help out with mechanical duties and in the pits. All the Rotax powered Ski-Doo 78 IFS Blizzard chassis and motors are worked on and developed at the home base bear Beausejour. When I talked with these guys over the past couple of years, it's pretty clear that Norman Lavoie is the heart and soul of the team. His mechanical and people skills are what keep the guys going in the long, dark, grueling hours in the shop and at the track.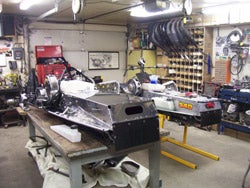 The race shop with sleds in
progress for 2009.
While Steenerson has been racing a little for several years, he's not really had the big break. But last year, Jeff was leading the 340-X class until a crash forced a restart. When they took off again, Jeff had to dive low and took out a cone to avoid hitting Troy, effectively ending his challenge in the race – even though the team was confident he actually had the faster sled that day.
Duncan Reid has been the teams primary driver until this year. Some on-going back problems will have him moving from the seat to the wrench more. But Duncan has been thee man to beat at Beausejour in the last several years, and has plenty of Eagle River victories under his belt for bragging rights. Duncan will put the safety vest on again this year and hit the ice for the March race in Beausejour.
Troy Lefko is the youngest member of the team, but already has shown real promise in his driving ability. Last year at Eagle River, Troy won the 340-X class and took 3rd in 440 IFS behind Jacque Villeneuve and Devin Fackrell. Coming in 3rd in that race was quite an accomplishment for the young man – he likely could have done better were it not for a faulty head that was leaking radiator fluid into the motor and out the pipes.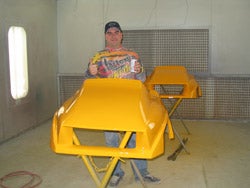 Duncan Reid with some of the new hoods for 2009.
In 340 IFS, Duncan Reid jumped on the same machine and won that class. He then also pulled a 3rd in 440-X with the same 440 machine as Troy ran in 440. The head was fixed before Duncan's run, but radiator fluid was still in the system for Duncan's race.
Last years 340 IFS class at Eagle River really was between Reid/Lefko Jeff Steenerson and Tom Fleischman's RXL. The 440 class was between Jacques, Devin, and the Duncan/Troy sled. That should give you some idea of how good these guys are at building, setup and driving.
To top the year off, Troy won the prestigious Jerry Bunke Memorial award at Beausejour last spring.
This year, Steenerson will join the team in the 340 & 440 classes and 250 if there is enough time to get that sled done before first ice. He'll race at Eagle River, Wolf Lake, perhaps Sauk Center and some other races. Steernerson also has a secret weapon this year: He bought Devin Fackrell's SnoPro Championship winning 440 Blizzard.
Troy will race 340 and 440 for sure again this year and is working hard to get a 250 done as well. You'll be able to catch Troy at Rock Rapids Iowa, Eagle River, Beausejour in December and March, Sauk Centre and some events at the historical track in Strathcona, Minnesota.
Troy is a young, fast and experienced driver with a great team behind him and some dang good looking, well built sleds. That's why I'm calling him "one to watch" in 2009.
| | |
| --- | --- |
| | |
| Jeff Karrow, Troy Lefko and Billy Zawicki, Eagle River, 2008. | The 2008 340 and 440 ready for battle at Beausejour. |
| | |
| Nothing to do with the team, but when you catch Dave Wahl on this kind of radical new race sled, you really have to get a picture! | Duncan, Jocko ad Troy, ER 2008. |