This past weekend Jim Haug and I traveled to a strange, yet wonderful place called the "Upper" (pronounced 'you-purr'). Also known on most maps as the "Upper Peninsula of Michigan", it's a very weird place north of both Wisconsin and Michigan that separates them from Canada. Our mission was to make the perilous travel through that strange land, and come home safely with a rare snowmobile I have hunted long and hard for over the past six years. One that I had given up on as lost: An actual 1976 Polaris factory SnoPro.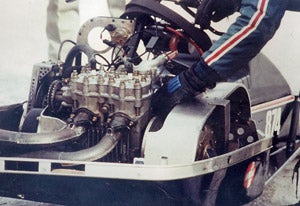 It started as Don Omdahl's 440 until he was hurt and Jerry was brought up to race Don's sleds. This is the 440 – note the stripes on the tunnel.
On the ride home, we figured out through pictures that this is Jerry's 340 – because the lack of a tunnel stripe, and how high the numbers are.
Crossing Wisconsin was normal – much like crossing most of Minnesota really. I was looking forward to getting to Ecanaba Michigan, a place I had never been to before. Plus it's just fun to use the word 'Escanaba' in a sentence. Try it.
As soon as we left Wisconsin, things got different. Very different. The buildings changed – they were all made of different materials, ones I had never seen. Not wood, or brick or steel, but something that resembled tree bark – with an unearthly glow to it. Most houses were decorated with the owners collection of home appliances, cars on blocks, the occasional snowmobile, spare parts & other furniture items. The woods got thicker. Thick like we-could-hide-Jimmy-Hoffa's-body-here thick.
At one point, I swore , I heard Uller God praying out loud for snow. And his prayer was answered. It began to snow, and rain.
Then I started noticing how the signs had changed. Unlike Minnesota or Wisconsin, there was no longer any signs for gas stations, McDonald's, or real estate agents. Instead, there were signs for "Pasties". I don't know about you, but where I come from, Pasties are what dancing girls wear when they have nothing else on. If that was correct, the Upper had a ton of places that had dancin' girls. Why they had a place for dancin' girls every mile or so! Odd, however, that when ever the pasties were mentioned, ice cream, smoked fish and pie were also on the sign. That seemed odd, but we just assumed the uppers liked to have some food while looking at the nearly naked dancing girls. After all, who doesn't?
Then there was the small, broken down farm on the side of the road with a large red & white sign proudly shouting "Web Site Designing". I'm still not sure of what to make of that.
The wind picked up as we reached Ecanaba. It was as I had pictured, kind of a rustic shipping city with lots of old brick warehouse type buildings. We made a wrong turn and drove for several miles before I noticed that Lake Michigan was on our left, when the map said it should have been on the right. We back tracked and found the correct turn. We followed the highway with Lake Michigan on our right the rest of the way.
Lake Michigan is amazing. Very blue, as in 73 Polaris Starfire blue, with miles and miles of sandy beaches. The winds were high, so there wasn't a single boat on the lake. Just huge white caps crashing.
Coming over a hill, I spotted our destination: The Macinaw Bridge. Wow. I've been over the San Francisco bridge, and it has nothing on this thing! It's huge. And tall. And with a good high wind, it's like an amusement park ride just to cross it.
On the other side was a family in a truck, waiting patiently at a gas station. I'll leave their name out of the story, because I'm not sure they want it plastered on the Internet. We all got out, shook hands had a few laughs, then took a look inside the back of his truck. There it was.
One of Jerry Bunke's 1976 SnoPro sleds. The number 874 is still on both sides of the tunnel.
While I was outside drooling over the sled, Jim went into the gas station. The women working behind the counter had more tattoos then a prison guard, but Jim had to ask any way. "We keep seeing these signs for Pasties all over the place – what are they?" Jim asked as he paid for his bottle of tea.
Clone 340 RXL with a 79 hood.
The lady corrected him. "THEY AIN'T CALLED 'PASTIES'! THERE CALLED 'PAW-STEEEZ'!" Jim learned it is a major offense to pronounce the word as it is spelled. She then went on to explain it is a local delicacy – some kind of meat and potatoes thing wrapped in bread. "Sort of like a pot-pie" she said.
Jim, myself and our new friends all did some loading, swapped some cash, looked at some pictures and loaded the sled into my truck. It was cold and windy, and they had been kind enough to wait for his for hours, but they were ready to go home. We said good-bye, then Jim and I headed back across the bridge, back across the Upper and towards Appleton Wisconsin.
We made Appleton by 11:00 that night, and that was a lot of driving. More then I ever care to do again. When we got to the Hampton Inn in Appleton, I began to get nervous about leaving the sled in the truck. So I checked in, then drove around back. Jim and I took the sled out of the truck… and hauled it up two flights of stairs and into the second floor hotel room.
Yep, leaning against the wall in the Hampton Inn was a snowmobile. We got lucky, no one saw us bring it in. We were not so lucky leaving the next morning. We opened the door and started to pull it out. The door across the hall opened right after we had gotten it into the hall. The tenants of the room looked at us, then the sled, then just shook his head, as if to say "what the…..". Jim and I just high-tailed it out of the hall, down the stairs and loaded it back into the truck.
Moments later, we were having breakfast with 2005 and 2006 Vintage SnoPro Champ mark Anderson, who lives near Appleton. Right after that, we headed to Mark's shop were I picked up the clone RXL I'm hoping to bomb around on this winter. After chatting with Mark and looking over his race sleds (two of which are still for sale), we packed up headed home.
We stopped at Ed Schlosser's house, who is doing some amazing upholstery work for me. Picked up some foam from him, chatted for a bit, then hit the road, making back to the Twin Cities around 9:00 last night. Good trip. Good people. Good timing. Interesting places.