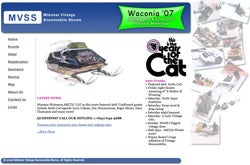 The Midwest Vintage Snowmobile Show (That's the WACONIA people) have a brand new spiffy website with all the information for the 2007 show.
Included on the website is some long-time coming changes in the judging and rules for the big event. This year's featured sled is none other then ARCTIC CAT – with many of the Arctic celebrities planning to attend – including race drivers, builder and founders.
Drag racing has become bigger every year at Waconia, and the swap meet is always cool. This years event is also the ASCOA official winter meet – so there will be plenty of nice antique hardware there as well. We have very strong rumors that some of the big time Cat collectors from the East coast are even planning to attend! Don't miss it, January 21 and 22, 2007.