We all wish you the best for 2009. On the way out of 2008, we will soon have our new "Find of the year". Not any kind of real contest per say, but a yearly running chronicle of the really neat sleds that have been found in the past year. We do have some judges and prizes.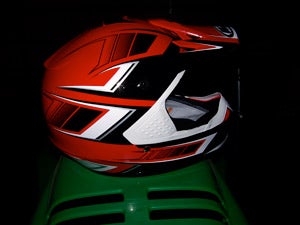 However we strongly encourage bribing the judges – (tongue firmly planted in cheek). This years winner will get a spiffy trophy, and this brand new helmet, courtesy of Koch's Performance of Crivitz Wisconsin.
This years judges go by their SledTalk 24/7 names: Polaris 440, Lasergal, Yamabunch and JLOPower. Each is eagerly anticipating each email and phone call to see what new goodies are being offered. So if you have a sled entered, start the bribing, bribe early and bribe often!
The judges are going to have a very, very tough time. This year some really fascinating new stuff showed up. It's amazing to me how much stuff is out there:
Arctic Cat EXT's, 'Daddlers, Polaris Centurions, Polaris Starfires, Bruts, Ski-Doo Blizzards, Kawasaki Interceptors, Arctic Cat Z's, Vikings, Dauphins, Speedways, Snow Cruisers, Moto-Ski Supersonics, Skeeters, Roll-O-Flex Wild Ones, Yamaha SRX's, John Deere Spitfires, Snow Kings, Johnson JX 650's, Ski Whiz 44WT, TX's, Yamaha GPX's, Kawasaki Invaders, Super Bugs, Polaris Colts, Skiroule RTX440, Ski-Doo TnT's, Moto-Ski SnoPro, Sno*Jet Thunderjets, Rupp Nitros, Rupp Magnums, Ski-Doo SnoPros, Polaris SnoPros (1974, probably Larry Rugland's 650), Johnsons, Polaris Playmates, Mer Trail Twisters, Herters Husky, John Deere Liquifires, Mantas, Arctic Cat Lynx, Yamaha VMax, Jerry Bunke's 73 340cc Starfire, Arctic Cat Cheetah's and Panthers.
That's just one year of finds! Wow! Best of luck to the judges! Check out all the sleds yourself in the Find of the Year thread.