The alarm clock went off this morning at the usual time. What was unusual was that the first words I heard this morning were "It's Alive!!" from the Oingo Boingo song Weird Science.
"How fitting" I thought, as my thirteen year old Cat squeaked out a little noise during her morning stretch. Why was it odd to wake up to that song? Because this was the day that I was to see if a four year old restoration project of mine would finally come to life.
In the first races of the 1977-1978 SnoPro season, each Polaris driver on the Midnight Blue Express (Jerry Bunke, Steve Thorsen and Brad Hulings) had a regular 440 – that is with an aluminum bulkhead. They also each had a 440X machine, as well as each having a 250 and a 340 RXL, which were pretty much the same machines as the independents had.
What I didn't realize until lately was that there was in fact 3 more made just for Eagle River. Along with the magnesium bulkhead, these machines had lightweight brake disks, shafts, thinner tunnels – whatever they could do to shave a little more weight off the machines.
The first time they hit the ice was at Eagle River. Both Jerry and Steve qualified for the coveted "World's Championship" but Brad crashed his machine, first corner, first heat race. Brad crashed and fell off, but that machine bounced out of the race track with the throttle stuck wide-open, and slammed into a parked ambulance.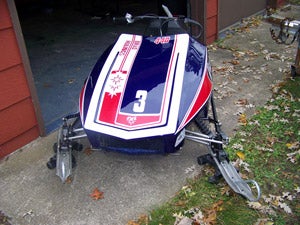 "There was nothing left of it" Brad told me in a later interview. "Nothing?" I said. "Nothing." he repeated.
Jerry Bunke's Eagle River machine is in the Snowmobile Hall of Fame in St. Germain Wisconsin. Steve Thorsen's is owned by Rob McMillian, and we have chronicled that sled often here. Brad's Eagle River sled was destroyed.
But all three 440X sleds survived the years – mostly. Having been a huge fan of the Polaris Midnight Blue Express as a kid, I never, ever in my wildest dreams thought I would own one of these machines.
But way back in 2004, I traded a very, very nice original condition superstock 340 RXL for a rolling chassis that was in Maine. At the time, I was not sure of what it was, other than it was another RXL, but with a magnesium bulkhead. I knew it had to have some kind of history with that.
It took a very long time to find all the missing parts – the hardest part being the not-so-common 440 Polaris triple RXL motor. Once I had that, I started working on the sled.
I was thinking that it would be a fairly quick job; after all, by the time I started in October of 2006, I had pretty much all the parts. I also decided to show the work off as it was being done, and I did so on a thread in the Bull Sessions.
That turned out to be a pretty clever move. I got help from all over the U.S. and Canada. Turns out a lot of people would like to see it done. As of this writing, the Rocky thread is one of the most popular on the Bull Sessions.
But then I started to run into some issues. The big one being time. I just wasn't able to get out in the garage and get any quality time with the machine. I had no pipes for it, but I looked everywhere to see if I could find an original set. No such luck. If 440 RXL motors are rare, the pipes are just plain non-exist ant. Enter Dave Crumb, who volunteered to take the job on.
This was no easy task; Dave is in New York. The sled is in Minneapolis. So Dave borrowed a set from Jon Pardee who owns Bernat/Hulings 440 machine from 1977. He did a killer job! But the 78 440X chassis is different, and the pipes did not fit exactly right. So off to Willy Ewing they went for a fitting.
I found out a lot of very interesting things about the 440 RXL's during a conversation with 1978 factory team mechanic Greg Hedlund; There was no standard pipe for these machines. They were all hand built. If one guy crashed, he could not borrow a pipe from another sled. They would not fit.
After getting the pipes on, the next problem was the hood. It just wouldn't fit right, no matter how much I cut it. In fact I ruined two hoods before getting the third to fit, and it took one more pipe re-fitting to get it right. Hint: The factory team ran their hoods about 2" lower than everyone else.
On the way to get the pipes fitted to the correct hood fitting, we stopped in at Larry Rugland Motorsports and showed him the sled. In particular, we showed him the clutch guard where the phrase "Rocky The Flying Squirrel" is scrawled into the metal, and "Don't Crash Me" on the handlebars.
Larry looked at the Rocky the Flying Squirrel and got a huge grin on his face. No question what this machine was after that.
"Brad was the lightest yet strongest race driver I ever knew. He was little, but he had barrels for arms. I just started calling him Rocky the Flying Squirrel after the cartoon. I'd always yell at him and say Rocky! Try this! And he'd reply Okay, Bullwinkle."
So this morning, I had some very small tasks to do before starting it. Adjust the track, test the job I did on bleeding the brakes the day before, and make sure it had to anti-freeze leaks. Then put some gas in it. 110 race fuel.
Then it was go time. I swear my heart had not pounded this hard since I could remember. I started to doubt myself. Was every bolt tight? What did I forget?
I ran through a check list in my brain about 20 times. Then I gently blew into the gas tank to get some fuel into the carbs.
The last time this machine ran was March of 1978. Would it indeed run after thirty one years and seven months?
On the 3rd pull it popped and sputtered. On the fifth, it idled for a bit then stopped. Thrilled, I grabbed the camera.
And here ladies and gentleman is pull number six: