2011 Hall of Fame SnoPro Champion
By Larry Preston. Photos from Larry Preston, Pro Vintage Racing, Kelly Anderson, and Team 3G Racing. Helmet cam footage from TURN 2 RACE DVDs
The American Success Story: One minute your living in obscurity, the next your a superstar. But the truth is that behind every superstar, there is probably ten years and 10,000 hours of struggles and very hard work, and that's Matt Goede's story for sure.
Most people will be surprised to learn that Matt has been going fast since the tender age of just 4 years old. "Officially, you had to be 5 to race Quarter Midgets" said Matt's father John, recalling Matt's earliest race experiences. "On the day of the first race of the season, Matt was just a few weeks shy of birthday number five, so, ah, well, I fudged his birthdate just a little on the entry form."
John Goede always wanted to get into snowmobile racing as a kid, but never could. He spent a lot of time looking over a fence at the racers and just dreaming. However he had been riding since he bought his first sled – a 1969 Polaris Colt. Eventually John got into racing motorcycles and stock cars and was doing so when he met Lisa in 1983. Their first son Jacob was born in 1984, but John continued to race with Lisa's support until his oldest son Jacob started racing the Quarter Midgets. Once that started, the family was in full support mode of Jacob's efforts. Matt was born in into the team in 1988 and was soon traveling to races with them.
Matt was off on a tear when he started with the Quarter Midgets. For those not aware of the Quarter Midgets, they are slightly larger go-karts with a full roll cage and independendt suspension. Matt raced a 10 Horse motor at 10,000 RPM's. The team traveled to Oregon, British Columbia, California, Indianapolis, Pennsylvania and Kansas in pursuit of some good racing.
Matt still holds a Minnesota track record for fastest qualifying in class Heavy B. He also won six track championships at the Elko Minnesota Quarter Midget Track. Matt continued to race the Quarter Midgets until the ripe old age of 15.
Neither John nor Lisa had any idea the boys would get into snowmobile racing in such a big way. By the time they started, they were both knee deep into stock car racing. "The first snowmobile races we went to were more of a way to relax after a long stock car racing season." Matt recalled.
I first became aware of Matt's talents in 2009, when I asked Matt if he just wanted to try my 250 Polaris Super-Mod. Matt won his first final on the 250 with ease, and took 2nd with it against the IFS sleds.
Matt's love affair with sleds began when he got a 1973 340 Colt as a kid. He rarely got off the sled in the winter. Matt's first snowmobile race didn't take place until 2006, when Jim Lennox loaned him his super stocker after the Eagle River race. During the summer of 2006 Matt returned to the summer ovals to race Stock Cars, winning Rookie of the year in Shakopee, Minnesota running a late model car, and finishing 3rd overall in points, taking 1 feature win, and 3 heat wins – not bad for the first time in a car.
In 2008 the team built a new car and Matt started racing at Elko Speedway, just south of the Minneapolis/St. Paul area. However much Matt liked racing his stock car, he was always there full time to support Jacob and liked doing that as much as driving. In the winter of 2009, the team started building the 340 Starfire they are running, but didn't get enough time to finish it. That summer, Matt went back to Elko and came out 3rd in overall points with 3 feature wins and several heat race wins.
Heading into the winter of 2010, Team 3G got their 340 Starfire working just in time for the race in Amherst. The 340 did good, but the 250 struggled with Matt getting a 2nd. In Eagle River, the little 340 proved itself to have a bright future: Matt won Super-mod 340 liquid, but a broken throttle flipper prevented Matt from winning the other class he was leading. Jacob won both 340 IFS classes and got 2nd in the WC, as well as winning pro-mod 340. Things were starting to really look good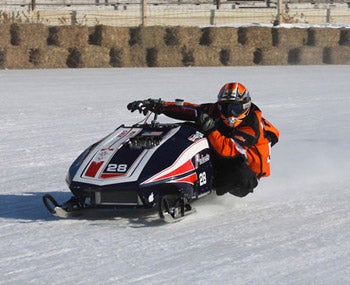 The rest of 2010 went well. Matt drove the RXL for the first time in Waconia, winning two classes with it. Waconia was also another place where I noticed Matt's talent. My friend Jim Haug had brought a superstock 340 to race that day, but a family emergency caused him to leave the sled there and go home early. before Jim left he asked Matt if he wanted to race the sled. Matt took a short ride on the lake with it and came back and said "Sure!". Jim went home and Matt went racing on a sled that was not setup for him, and that he had no time on what so ever, and he won it with ease. Throughout the rest the winter of 2010, Matt raced the 250 and also ran the 340 RXL on occasion. But 2010 turned out to be just a warm-up for what about to come in the winter of 2011.
Back to stock cars over the summer, where Matt won one feature win and came in 4th in points at Elko. By late October the cars were put away the boys were back in the shop working on the race sleds. This year, the 250 would be upgraded to a rubber track to make it Eagle River ready, The chassis re-enforced and the motor was rebuilt. The rest of the sleds got general maintenance and small improvements from the 2010 pile of notes.
Due to the weather, there wasn't any time to do any testing; the sleds would have to be ready for the race in Rock Rapids in mid-December. Jacob was on a vacation, so Matt was on his own to tackle the first SnoPro series race. In his first SnoPro showing, Matt won both IFS 340 classes, both 340 FA classes, the 250 SM class. But the big surprise was Matt taking a second to Brady Mlaskoch's very fast 440 in the 440 F/A on the new 340 Starfire. Keep in mind the 340 is Jacob's sled – so it really isn't setup for Matt – although by the end of the year, either could ride either sled just as easy as the other.
That's the way the year went for the team after that: In Ironwood, Matt and Jacob won every class they entered, including Matt's amazing win on the 340 against a field of very fast 440 sleds. Check out the video below of how fast they were going and how close Matt ran against the other machines. Even though Matt hit the hay bails in the race and had to re-start from the back of the pack, he clawed his way back to the front.
Eagle River was next, and Matt won the 250 class, 340 FA, 340 LQ and took second in the 440 Saturday Championship. Jacob won 340 IFS, Pro-Mod and the big one: The Vintage World's Championship.
Weyauwega was another clean sweep; Matt and Jacob won 13 out of 13 races. In Ogilvie, Matt won 7 out of 8 classes he entered, only taking a second on a borrowed sled in a super-stock class. In Garrison, Matt won all three classes he entered. In Glenwood Minnesota for the Hetteen Cup and the final SnoPro race of the year, only a broken trailing arm on the RXL against a fast Dale Stanger came in between Matt and a clean sweep of all his SnoPro classes to become the number one driver in SnoPro for 2010-2011. And although he missed some races, brother Jacob had climbed all the way back into second place.
So there you have it, your Hall of Fame SnoPro champ for 2011. The whole team will be in St. Germain for the Classic Sled Roundup and the SnoPro awards ceremony. But that will be about the only time they have off all summer. You can catch Matt racing his stock car at Elko Speedway this summer, and Jacob will be racing the ASA Midwest tour.
What about next winter? When I went to do this interview there was three chassis stripped and a whole shelf full of parts ready to go into another new sled for 2012… I have no doubt that Matt, Jacob and Team 3G will be back racing as soon as the snow flies.
Team 3G is interested in finding sponsors for both their stock car and snowmobile racing. If you'd like to get your organization associated with winning, please contact them.
Oh, and HAPPY BIRTHDAY MATT!
Matt Goede Videos:
Matt's win in 250 Super-Mod/SnoPro, Ironwood MI:
Matt racing his stock car at the Elko Speedway:
Ironwood 440 Feature race – Matt Goede Helmet cam:
440 Super Mod race in Garrison, MN: