Our story begins on a cloudy day in 2006. Wolf Lake. Alexandria, Minnesota. It's the last race of the year in the 2005 Vintage SnoPro Series. There is pretty much a three way tie between Mark Anderson and his nimble fleet of Polaris Starfires, Bill Stull on his fleet of Rupps, and the surprise of the season, Jay Sperry Jr., driving a single Rupp 440.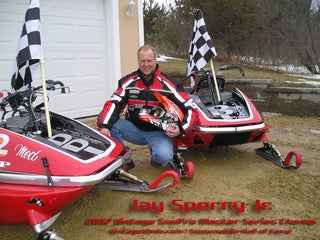 Jay Sperry Jr. is the owner of the St. Croix Outpost. A motor sports and firearms dealership in Hudson Wisconsin. It was at work one day that Jay first heard of vintage racing from an employee at the time – Joanne Kruger. Joanne was always going on and on about how much fun she and her husband Kurt were having racing old Ski-Doos. Jay poked fun of mostly, wondering why anyone would want to race an old sled around.
But eventually Jay got the bug. He couldn't get it out of his mind that no Rupp had ever won an Eagle River title. Including his Dad, Jay Sperry Sr. You all will remember Senior from his cover on Race & Rally magazine, on his DDI Sperry Special Rupp Magnum. Senior didn't win back then at the track, and Jay thought he could right a terrible injustice to his father and the Rupp fanatics out there. Build a Rupp, win an Eagle River title, and get vindication. Jay did some research and quickly learned that Dennis Berning in Minnesota owned the original sled of his fathers. Jay traveled to the Berning residence and shot up several rolls of film of the sled – it was exactly as it had been when it came off the race track all those years ago. Jay lifted the font for the number "552" as well as the styling of the hood for his new machine. But the similarities stopped right about there.
Jay Sperry Sr. Cover of Race & Rally, 1972 at the
Minnesota State Fairgrounds.
(photo courtesy of Snowtech)
Jay has been racing all his life, and he put decades of knowledge into that Rupp. From the first race in 2006, it was very clear to everyone in attendance that Jay was on to something. Jay won not one, but 3 classes at Eagle River in 2006. He found out about the SnoPro series in Eagle River, and decided he might as well go after that title his first year in vintage racing as well.
But he was running a single sled, a 1973 440cc Rupp Magnum with a mid-mounted motor. Between himself and Bill Stull running mid-mounted engines, everyone was scratching there heads and wondering how they were getting those things to handle, keeping their jackets out of the carbs, and in Jay's case – keeping them so far out front. But a single sled race team winning the SnoPro series? Let's just say no one was putting early money on Jay's chances.
The battle for the 2006 title raged on at all the races, but came down to this single race at Wolf Lake. In preparation Jay took a gamble: The 440 had been very, very strong all year. But he felt he could get more top speed out of it at the end of the straights by opening the exhaust valve just a bit. Three degrees, to be precise.
The change did not have the desired effect.
What was not revealed in testing was quickly learned in the first race. Jay's amazing hole shot was gone. He was not going faster at the end of the straightaways. He was slowing. To make matters worse, the classes were not arranged well for a guy running a single 440. He often barely had time for gas and a lube fill between races. In one case, he frantically tried to get the flagman's attention as they were still filling up when the race came to the line. Undaunted by the fact the racers left the line without him, Jay charged the track, joining them as they all got into turn one – from his position in the pits.
Turned out, the exhaust change was a bad idea, and Mark Anderson had a great day, winning pretty much every class he entered. The title of SnoPro Master and the name on the Hall of Fame cup for the second year would be Mark Anderson. Jay would land in 2nd place overall.
Jay went home and immediately began planning his 2007 campaign.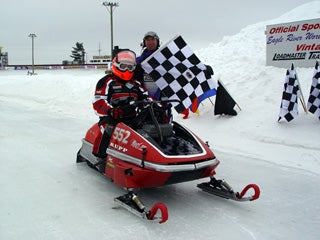 Jay's first time out at racing the week of Eagle River's vintage festivities, Jay won 3 classes.
Jay Sperry Sr. started racing go-karts in the 1950's. From his shop on the East side of St. Paul, he graduated to Stock Cars. By 1966 Senior had opened up a Rupp Snowmobile dealership from his 2 car garage. For fun, he started racing the Rupps. He ended up beating some of Mickey Rupps own hand picked factory racers. That got Mickey's attention. The Rupp distributor, on orders from Mickey Rupp himself, hired Jay Sperry Senior to be the Rupp race director. It was Seniors full time job to put together race sleds and hire drivers – ovals and drags. That distributorship became DDI – the same "DDI" painted on Seniors Rupp in the classic Race & Rally photo.
Jay Sperry Jr. raced motorcycles as far back as 1969. He started on snowmobiles in 1973 on a 295cc Nitro, racing for the distributorship. His very first race was in front of a huge crowd in at the famous Ironwood Michigan track. An unfortunate incident with a woman shoving wine at Jay the night before found Jay leaning over his sled the next day with a pounding headache, ready to wretch at any moment. He was sick enough that he begged his Dad to not race. But Senior was having none of it. the boy would race, hung over or not. A woman passing by thought Jay was nervous and tried to console him. What Jay was thinking (but he kept it to himself) "Lady, I'm not nervous, I'm hung over"! Hung over or not Jay pulled a third place finish in his very first race!
Watching his idol, Gene Bloom, fly around the track on his Rupp with knee high hiking boots, Jay suddenly felt he needed a pair to be like his hero. He got them for the next week, only to find out they didn't work so well. The next week in Rhinelander, his feet were almost frozen off, but Jay got his first win. That year he raced many smaller races, but at the old Arrowwood Inn race track in Alexandria, he had a very memorable race where it was Jay and one of the Porter brothers from Arctic Cat locked neck and neck to the end. Jay would lead in the corners, then Porter would pass in the straights. On the last lap, Jay managed to push him high and pass Porter for the win.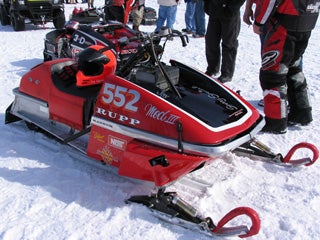 The 2006 version of Jay's 440. Alexandria, Minnesota.
In 1974, things began to unravel at Rupp, and the race program was ended. Jay didn't get to race all year. In fact Jay's racing was a little sketchy until the 1975-1976 season. Jay had a 76 340cc Nitro and would race anyone on the lake that wanted to. But mostly, the Rupp was being used to pull the fish house. Before the Balsam Lake cross-country race, some drunken blowhard in the bar was trying to challenge Jay Sperry to jump into the race. "Wrong guy" Senior said. Pointing to Jay he continued "you'll need to get that guy on a sled".
Challenge issued, and accepted. Jay, his Dad and some others worked out a deal that if Jay won the first place prize of $5,000, the money would be divided up amongst those that paid Jay's bills and helped get the sled ready. Jay was a long shot that day as well – with over 300 entries in the race. Jay won the race 4 minutes ahead of the guy everyone did have money on – Brian Nelson.
Jay continued to cross-country race Rupps in 76-77, then was hired by Kawasaki. Kawasaki did not want to run cross-country as upper management did not feel they had a sled that was competitive, but Jay proved them wrong. Turns out the Kawasaki was very competitive, with Jay winning a several races and taking home a 2nd in the grueling 500 mile race from Winnipeg Canada to Minneapolis Minnesota. Jay finished the season the all high point champion in the ICCSF.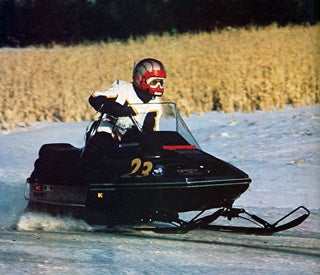 Jay coming into St. Paul in the 78 I-500 race.
(Photo courtesy of Snowtech)
Jay finished 7th overall in 1978 on the Kawasaki's, then 2nd over all in 1980 running a Polaris for the first time. Jay went through a long period then of getting in, then getting out again of racing. Jay entered the I-500 in both 1987 and 1988, but didn't finish due to mechanical problems. He quit sled racing for awhile and moved on to racing cars.
Jay got the bug again and went oval racing in the 1992-1993 season. Even though he had not raced ovals since 1974, Jay put together a big FIII sled, a Polaris XLT with a triple 600 motor in it. He raced a stock sled as well that year, and although he had a slow start, he was winning a few features with the FIII, and dominating with the stock sled. The following he year he continued on with the FIII and the stocker. Again after that, he drifted out of sled racing, into cars, and eventually settled into running the dealership.
But old habits die hard, and once you've been bitten by the need for speed, not much in your life can compare to the thrill.
So for the 2007 season, Jay was determined to hit it head on. He welded up the exhaust port on the 440 and put it back the way it was. He knew he had a winning sled there. He set out to build a 650 (he wanted that Vintage World Champion title) and a 340. He was also going to build a 440 liquid Rupp. Jay set his sites on the first SnoPro race in Eagle River.
But the Godz of racing conspired against him and his team. As the drop-dead date for Eagle River approached, Jay had all the chassis ready – but no motors. Not one got delivered in time. They scrapped like prize fighters to have the sleds ready with back-up motors, but by 9:00 on Thursday night before Eagle, Jay had to pull the plug. The sleds just were not ready. Missing that race was Jay's single biggest disappointment in his racing career.
By the next race in the series, the I-94 Ice Daze race in Sauk Centre, Minnesota, things were not looking too much better. He had put the 440 back together as it was the year before, complete with the exhaust port being back to where it was before Wolf Lake. But the 340 still wasn't ready, so they finished it in the trailer on the way to the race. They drove down the freeway, working on the sled in the trailer the whole way. They guessed at the clutching, timing and jetting. They randomly picked 9600 RPM's, and tested away on the stand. It seemed to be okay, but they decided to enter it in just one class, assuming they still needed to do some homework on it.
Jay took one look at the race track and fell in love. The Sauk Center race track is one of the nicest anywhere, and has a great setup for racing. One didn't have to look at it too long before the comparisons to the facilities at Eagle River became obvious. Sauk Center really has the potential to be one of the biggest races anywhere. Jay had raced it before back in the 1990's on his FIII and was glad to be back.
Sr. and Jr. 1978. Jay had the hood pictured here until 2000!
(photo Courtesy of Snowtech)

Jay was awarded a new 340cc Kawasaki Invader for his first place finish in the ICCSF in 1978 – Jay is seen here shaking hands with Mike Vaughn from Kawasaki.
(photo Courtesy of Snowtech)
The 440 was brilliant. Jay won three classes with it, and was even competitive against the big IFS 440 machines! To their astonishment, the 340 won as well. They regretted not entering it in more classes.
Moving on to the Hetteen Cup race in Glenwood, Minnesota, the team had gotten more test time on the sleds during the week. The race in Glenwood suffered from brutally cold temperatures that made everything move a little slower. In fact, the C14+ fuel Jay uses in his sled wouldn't fire at all in the cold temperatures. Blowing regular fuel in the sled didn't help at all. By Sunday they realized they had to keep the sleds in the warm trailer until close to race time. The would then take them out, start them, then after they were warm, shut them off and cover them with a blanket. Every few minutes they would put their hands on the motor. If they felt no warmth, the started it again.
Jay felt the flagging that day was very inconsistent. the flag man, he felt, kept trying to be "tricky" and keep the drivers guessing as when he actually meant they should go. Jay also felt let down on the awarding of the Hetteen cup – but only because they would tell him how the points were to be awarded for the big prize, nor have they explained it to this day. On Saturday, drivers were told that Saturdays races "didn't count". So Jay laid back to save the sleds for the finals on Sunday. When the award was given out, he was then told that Saturday's heat races did count.
But the track and facility at Glenwood were very much to Jay's liking. Fast, fast and fast. jay won the 440 free-air, 440 liquid, and the 340 free-air and liquid class. In of the classes Jay won, the 440 burned down, but he still managed to not only finish, but to win the race on one cylinder!
"When I got to Wausau, that track didn't look to bad. But when you got on it, you quickly realized how quick those walls were coming up on you". So started the race in Wausau – everyone was a little uncomfortable with the safety of a cement wall with hay pressed tight up against it. Turned out, that uncomfortable feeling was dead on. Dave Gruenwald hit the wall and was injured the worst anyone had seen to this day in vintage snowmobile racing. Bill Stull was injured a short time after. After Dave's accident, the drivers all met to see if they should continue to race – and race they did. Jay won both the 440 and 340 free-air and liquid classes – again. In the final 440 liquid race, he burned down again, not finishing the race this time. However, Jay placed very well in the IFS classes.
During the next week, Jay and the crew found that the new supports and seals they had made to re-enforce the cranks was causing the 440 to burn down. Went back to a formal seal rather than a double wide sealed bearing – and that t fixed it, making Jay very excited to repeat his winning ways. But his body had other ideas.
"I spent the entire week before the race in Hayward, Wisconsin in bed with influenza. Got out only twice, both time to go the hospital – I had a 101 fever ,but I was already pissed off at the SnoPro points system, and being pissed off outweighed all thoughts of staying home".  The 440, Jay had found the week before, had a problem pulling to the right, so Jay, ill and in bed, sent Bud Fritz to the test track and Jay coached him on the phone on how to fix it.  Despite being ill, Jay won the 340 FA class. He also won the 440 free-air class, but the illness was too much; he had to back off, and he lost the liquid 440 class to Steve Smith who had a smoking fast Arctic Z that day. He managed a 2nd in the free-air open class. His 340 lost a spindle in an IFS class, but Jay managed to finish the race without it.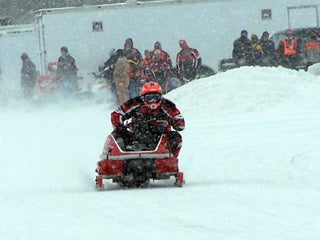 Strathcona – last race of the series. Jay loves the track. Fast, nice turns. Being late in the season, there was not a lot of ice left on the track. To make matters worse, the Wahl Brothers were testing their late model sleds the entire week before the race – leaving the track worn down to rock and dirt from ½ way through turn one, all the way out of turn two. It took a terrible toll on some teams carbides. Jay's 440 stomped to wins in all its leaf classes: free-air, liquid and Open. Ran good in IFS as well. Jay's leaf sprung, mid mounted motor actually passed some IFS sleds! In the 340 leafer classes, Jay won one of the classes – in the other the rewind came apart. After the white flag, the recoil blew, locked up the motor, and the sled came to came to a rest. Jay was so far ahead that the field behind him slowed down, when they saw him slow down – also slowed down – because they thought Jay had already won.
With that, Jay became the reigning Vintage SnoPro Master. But he won't be officially crowned until the May 27th Classic Sled Round Up in St. Germain Wisconsin to support thee Snowmobile Hall of Fame. Jay has not had the pleasure of visiting thee Hall of Fame and museum, but is looking forward to it – and seeing his name on that giant trophy in a place of honor.
But first things first: After the race in Strathcona, there was some serious partying to be done. Jay, his crew and all the other racers started at the Wheel bar in near by Middle-River, Minnesota, then moved on to a private party in Randy "Little-Man" Cwikla's private party palace. It's a very large pre-fab building with a log cabin built inside, complete with a bar, living room, kitchen and a full shop all under one roof. It's one of those party places where legends begin. It was Jay and the crews first visit to the party palace – and they will have a lifelong memory from their night there. What went on? Let's just say "What happens in Cwikla's Party Palace – stays in Cwikla's Party Palace".
Jay would like to thank all the people, without whom, none of his great season would have been possible. John at Northern Crankshaft in Thief River Falls Minnesota did an amazing job on his cranks – and did the work in a stunningly short turnaround time, without which, Jay could not have made several races. Also Millennium Cylinders – when Jay's sled burned down, he overnighted the cylinders on a Monday. The stripped them, replated them, and had them back to Jay by Friday – three times this year.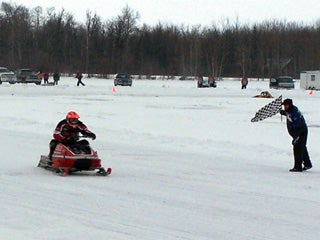 Then there is the crew:
Bud Fritz – He's Jay's right hand man. Bud assists with all aspects of Jays racing. Does the chassis assembly and work, and allows Jay the luxury of not having to worry about the sleds so much on race day. "Bud is invaluable come race day. I worry about nothing but what I have to do on the track thanks to Bud".
Sean Schimmelman is Bud's assistant on race day. His wife, Jen Schimmelman – Keeps track of everything "She knows where everything is at all times, so the rest of us know where we are supposed to be". "It used to be Dad that did it, but he kept getting confused". (laughter)
Finally, Rich Felegy – "He's truly invaluable. His motor experience – he does most of the machining work and a good part of the porting work that is done. He's a wealth of knowledge. I take all the experience I have and bounce it off him. He has a great facility and allows me to use it. He's very helpful to ne in areas I am grateful for."
So there you have it – Jay Sperry and Crew and his Red Rupps are the 2007 Vintage SnoPro Master. I asked Jay one last question before we finished up this interview: What are his plans for next year?
"Win the World Championship" was all he said. After watching Jay this past season, I'll be putting my money on a Rupp in 2008!