Jacque in an early 80's Ski-Doo promo picture. Photo form "Ice and Engines".
In the April 12th, 2004 issue of SnowWeek, editor Eric Skogman vocalized the opinion of a great many when he gave the legendary Jacques Villenuave the 'TIME TO HANG IT UP' award in his issuance of the "Blown Belt Awards" section. As we all know, no one has been more dedicated to the sport of Oval racing than Jocko, but maybe it really is time.
Here's Eric Skogman's opinion from Snowweek Magazine:
"Should Jacques Villeneuve put his jockey strap away? – We've watched him during the 30 or more years he's been snowmobile racing and know the great career he's had. We like his candid nature, too. However, we think he deserves the Time To Hang It Up award. Although Villeneuve, 50, is still jockeying around oval ice tracks, he seems to crash more often these days, and often takes other drivers out with him. It's become predictable, too. In a Champ 440 qualifier at the Eagle River Derby, two staffers predicted accurately which turn Jocko would crash and who he'd take out with him. Sorry, Jacques, but it's time to put the race sled away."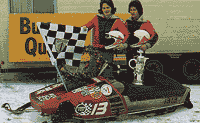 Gilles and Jacque after Gilles won his 1974 Eagle River Championship. Photo from "Ice and Engines".
Since the issue of Snowweek came out, people have been coming up with suggestions on what Jacques could do after he retires. Here's just a sample of some of the ideas VSN readers have come up with:
Apply for production line job at Polaris or Arctic Cat.
Open up a racing school and call it "Bump and Grind"
Move to Shokopee, MN and dig up them Kawasaki SnoPros!
Start doing commercials for pain relievers
Study sports psychology
Take Alouette Twin Tracker out of the garage and turn it into a street rod.
Join French Army. Immediately surrender
Write a blistering expose on Ski-Doo's secret plan to clone Yvon Duhamel
Publish secret love letters written to Liv Tyler.
Jacque after another win at Eagle River… Photo from "Ice and Engines".
Seriously folks – Jacques has had a great career and is definatley one of the all time greats. I'm sure that whatever he does in his retirement will be great and we wish him nothing but the best.
THE LOOP IS BACK?????
According to the Polaris web site, Polaris will recreate the original "loop" from the Polaris Thrill Team in the 1960's at the Roseau celebration in June. Is this correct? What nutball is going to get on a sled and go around that loop??? Will Larry Rugland come out of retirement and perform this insanity???? How cool would it be to see that??