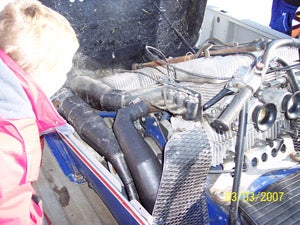 This year's year end race at the amazing Beausejour race track will feature the 2nd running of the Jerry Bunke Memorial race. Vintage IFS racers will be battling it out to see who's name goes on the cup. Last years winner – Howard Gifford – has already announced that he will not be back this year to defend his title. That leaves the field wide open! If you've never been to the track in Beausejour, be prepared for a treat. It's long, fast, and has a very nice "Wall of history" inside on of the grandstands. They also have a big, huge beer garden where you can take in some adult beverages between and after the races. The Jerry Bunke Memorial race has a long list of sponsors I'd like to personally thank for backing the race.
The race this year will also feature the late model Champ sleds and a special "Mechanics race" that will benefit Champ racer Chris Hortness who was injured this year. I watched CHris race last fall at Beausejour – he obviously a great competitor.
Vintage races are also on at Wolf Lake in Alexandria on Sunday, as of this writing. Here in Minnesota, we are in the middle of a second snowstorm, and the sleds have finally come out and are all over the trails. They are predicting over a foot for us here in the Twin Cities today!