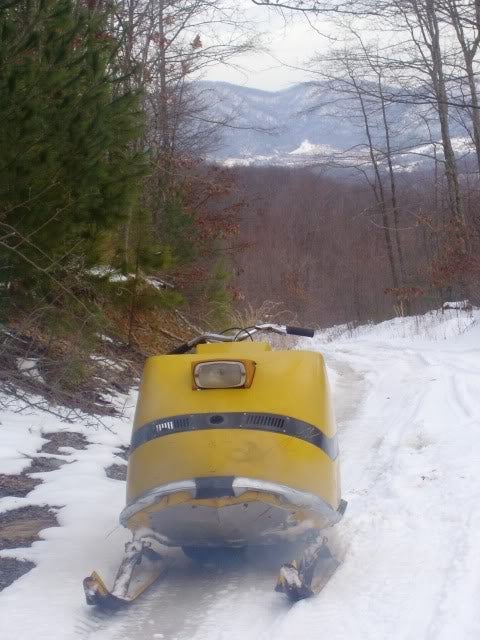 In praise of the common machine.
Starfires! Magnums! Thunderjets! EXT Arctic Cats! Ohhh, look at the magnesium,
the race history! So and so rode this in 1971! The best sled EVER! I'm going to let y'all in on a secret………those machines are neat, and I love to look at 'em. They are an important piece of history. However, when it comes to actual riding? Give me something you can buy for beer money, and not get upset if it gets a scratch. No disrespect to those ice oval racers which may be reading (proofreading?) this,
but I just don't want something that has to have little booties over the skis to move it when it's not on the track! What good is a machine so fragile it has to be ridden on ICE when it is called a SNOWMOBILE? That's right.

I love 'em cheap, and I love 'em common. Bring me a '72 Ski Doo Olympique, or a square bellypan Panther with a duct taped seat. I think old STP stickers and 30 year old registration decals are cool. Way too much fun is restored out of a sled these days! I like the sleds that you can replace the "traction aids" on with a bead of weld down the old wear bars. And if you ride a bit out of the range of the tank, you aren't bothered by mixing in the tank at a small town pump. Yes, the bread and butter sleds from the heyday of the market were made by the ton, and parts for the major brands are still pretty plentiful. It all works for this guy. Go on any vintage trail ride, and see what type of machines are there. Green John Deeres with bogie wheels? Check! Wide track OMC's, Rupp Americans, folks snaking the trail on Boa Skis, ruling with Skiroules, or jetting off with Sno Jets. Stinging 'em on Scorpions!
Towing un matched cutters with hose clamped on hitches, heading for that mid ride bonfire. Folks clad in the same oil stained garb they had on when they dragged the machine home from a swap meet and got it running, all having a blast and reminiscing. Tales of how their mom used to hide the gas can so they couldn't ride anymore, and now they have to do the same with their kids. Now that's my kind of fun!
Eric Rylander
Vintagesleds very own EricR
The preceding article appeared in the December 2013 issue of Vintage Snowmobiler magazine and is used by permission of the author.