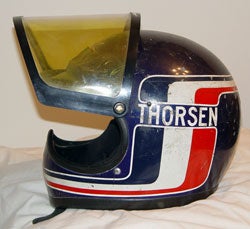 Steve Thorsen's original
'Midnight Blue Express' Helmet.

…is about to expand. Steve Thorsen has agreed to put the helmet and leathers he wore when winning the World's Championship in both 1977 and 1978 on display, as well as a leather 'SCORPION SQUADRON' bag (complete with his name stitched in leather) and the Team Frustration 'Frog Rock'. The Frog Rock is literally a rock with the famous Team Frustration logo on it. The team hauled it for good luck in the race truck as they gathered up a huge stack of trophies in the 1970's. It must have worked.
All these items will be soon headed to the Hall of Fame – the next time I make the trip. You just can't ship stuff this amazing. I can't anyway!