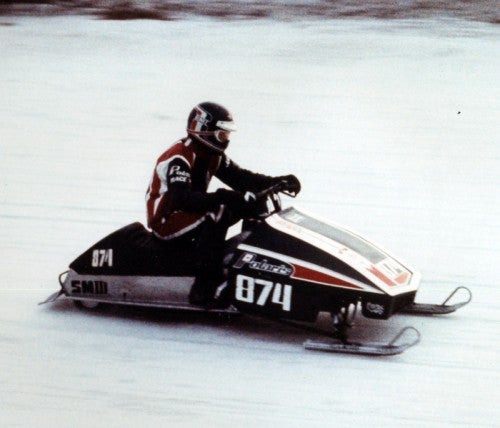 Jerry Bunke grew up and lived the majority of his life in the small town of Rushford, Minnesota, almost at the corner of Iowa and Wisconsin. His father owned one of the oldest Polaris dealerships there. Jerry and his brother Vern worked at the dealership, learning the ins and outs of two stroke motors and life itself.
Growing up, Jerry, like a great many of us, dreamed about being a professional snowmobile racer at a time when snowmobile racing really was a big deal. Unlike a great many of us, Jerry got his shot at that dream with the Polaris Professional Race Team in 1976.
While 1976 was a very tough year for the rookie, by the first races of 1977, Jerry Bunke was a certified racing superstar. After winning his first really big race at the Dayco Holiday Spectacular in Alexandria, Minnesota, Jerry was suddenly all over the newspapers, magazines and sometimes television and radio. He went on to be the high point driver of the year in 1977, even winning all four classes by himself at one race.
This coming Saturday, in Jerry Bunke's hometown of Rushford, Minnesota, there will be a special celebration of Jerry's life and times. There will be a very special display of Polaris factory race sleds, from rear-engines, to Starfires, SnoPros and RXL's. If you have a Polaris you'd like to display, bring it on down. We'd love to see it. At 2:00 PM, Steve Thorsen's 1978 World Championship sled will get fired up.
The new book Starfire Kids – Midnight Blue Express will be available and some of the people from the book will be available for autographs, including local people who are in the book, including Jerry's brother Vern, Polaris racer Gabe Bunke – and we believe Mr. Bob Eastman himself will be making the trip.
It all starts at 9:00 AM at the in the parking lot next to the Nordic Lanes, 403 South Mill Street, Rushford Minnesota. Things will keep going until 5:00 PM.
All are welcome, even if your not a Polaris fan. The event in Roseau really was something special and we hope this one is just as spectacular.