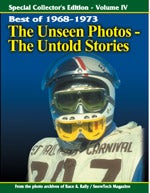 The boxes got dropped off here to today and we are busy as little beavers stuffing and getting them into the mail for those who have already ordered. But, of course, I had to sit down and take a look through. The thought of 212 pages of photos I've never seen was just too much, and curiosity got the best of me. So I apologize to everyone that ordered for the several hour delay while I looked at the book, then looked at it again. And again. And again. Then just one more time for good measure.
First impressions? Wow. Page one. A two page photo of sleds piling through the snow in West Yellowstone – including none other than Bud McCallum. Page 3, a two page photo from the 1973 I-500 race in stunning color – professor Stan Hayes, the eventual winner on the line. The printing process for this is book is definitely better. Cleaner, clearer shots. I know, the previous books photos were great.. could these be better? Yeah, in most cases – the actual printing of the photos looks better.
The first batch of photos is un-used promo shots from the manufacturers. Next, well, I don't want to spoil it for you. I will tell you there is many pictures from outside the range of 1968-1973 – which made it all that much more interesting. I'd tell you more about it, but I want to quit now and go look at it… again.