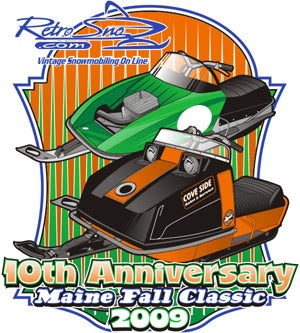 I love my t-shirts, and as t-shirt design goes, I'd have to say this is one of my favorites. It's available for the Maine Fall Classic at Retrosno.com. For those of you on the fence about going to this show – I say do it! It's a laid-back, very friendly, family orientated good time.
This is a non-judged event, with NO entry fee! Dash plaques for all participants.
Lots of very nice hardware will be there, from the Carsley family collection to the big collectors stuff, like Jerry McGee and I even hear the Warning family is making the drive from Illinois to share a couple of very rare sleds. I just confirmed a couple of Andy Avelis's rarest sleds will also be there, even if Andy himself can't make it.
It's not all race stuff either – when I was there last time, the Campbell's brought a bunch of their classic rear-engine antiques, as did others, and there was a ton of your favorite consumer sleds – lots of them from the smaller manufacturers.
The Maine Fall Classic is in Newport Maine on September 25th, 26th and 27th.