It can take a long time to learn about a particular machine – what makes it "original" or "correct". But last weekend I packed in months worth of learning in just a couple of days. The sled I learned about?
The 1981 Cat SnoPros. And one crazy John Deere!
Here's what I learned about them. Cat made just six of these chassis. Two were for Jim Dimmerman, two were for Bob Elsner. The other two got Scorpion glass for Brad Hulings.
After 1981, the sleds went to Neilson enterprises. The Cats were raced by the Goodwins, maybe some others. The two Scorpions were later combine into one that became Jim Dimerman's "Phantom" that he won the World Championship with in 1984. I think that makes it the only chassis to win that race twice – if there was another one, I'd love to hear about that.
One of Elsner's sleds is now in the Snowmobile Hall of Fame in St. Germain, it's history from Cat to the Hall of Fame is well known and documented. Elsner's other sled is rumored to be in a private collection.
Enter Rick Van Snick and Jon Carlson. Jon found an 81, and Rick Van Snick did an outstanding restoration of it. Jon, at the time, was building a very impressive collection. He kept it low key, but the sleds he acquired in a short period of time were pretty impressive.
Recently, Jon decided to let some sleds go. When word got to Jerry McGee that Jon had an 81 Cat, Jerry was on a plane for Minneapolis, and he and I went to Jon's place to look it over. A few measurements later, we were on the way to the Hall of Fame.
We looked over the Elsner sled good, had a great dinner with some friends there, and were on the way back to Jon's. Based on what we learned between the two, were were pretty certain it was in fact one of the 81 SnoPros. Jerry and Jon were both elated over the deal. Jon was glad to see it go to a good home, I think Jerry was stunned he found one!
But we figured there was one guy who could really give it a going over.
Jim Dimmeran.
Jim looked her over with a fine tooth comb and confirmed it for us. The shock towers, trailing arms and a few other items make it an 81. Some parts over the years had been altered, but it was correct.
So I'd be the last one to say we learned everything there is to know about an 81, but Jerry plans to keep digging up the details.
Here's some photos from the experience.
Jon's collection features one of Huling's twin trackers, a 79 RXL, an 81 Cat SnoPro, and some of the coolest John Deere's on the planet.
"Just" a Liquifire huh?
Would you believe it is actually a prototype from when Polaris bought John Deere. That's a Centurion motor beautifully installed in that black beauty. Jon says she's a hoot to drive!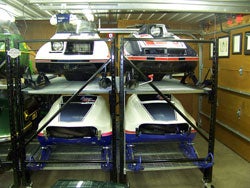 Jon's Polaris rack. A 77 and 79 TXL, an original 440 73 Starfire and a restored 295 – done by Jim Haug. Guess what? I can't tell which is original and which is restored.
Mr. Dimmerman reunited with his 81 Cat Snopro. Look at how great that hood looks!
Old enemies reunited as buddies. These two sleds more than likely saw lots of track time together running round-robin eliminations and finals.