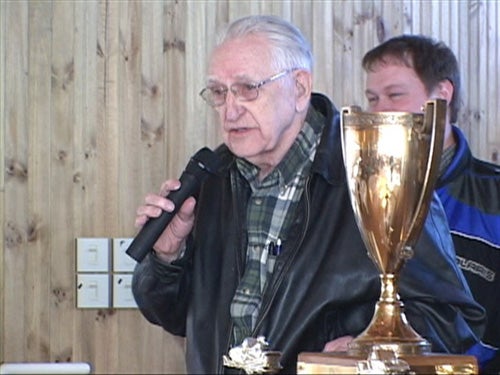 Edgar was a unique and fascinating man who founded the company that became Polaris, founded Arctic Cat, was instrumental in Arctic's recovery in the early 1980's, fought for our trail systems and the industry as a whole, and more.
Funeral arrangements are being made, but tentative plans are for a February 19th funeral in Grand Rapids, Minnesota.
Edgar E. Hetteen, age 90 of Grand Rapids, died Saturday, February 12, 2011 at Diamond Willow in Grand Rapids. Edgar was born in 1920 to Emanuel and Mae Hetteen in Roseau, Minnesota where he grew up and attended school. Edgar served in the U. S. Navy during World War II and returned to Roseau following his discharge. He was a co-founder of Polaris Industries and the founder of Arctic Cat Enterprises and the May Corporation. Edgar was also a co-founder of A.S.V. He was often called the "Grandfather of Snowmobiling". Edgar loved flying as a private pilot and his hobbies included snowmobiling, working and tinkering in his shop, and he enjoyed engineering equipment and snowmobiles. Edgar enjoyed the time he spent going snowmobiling with his children and grandchildren.
In addition to his parents, Edgar was preceded in death by his first wife, Ruby; a daughter, Nancy Triviski; a son, Ronald K. Hetteen; a brother, Allan Hetteen and a sister, Doreen Hetteen.
In lieu of flowers, memorials are preferred to the Itasca Hospice Foundation in Grand Rapids.
He is survived by: his wife, Hannah. A daughter â?? Patricia Glagavs of Maplewood, Minnesota; Two step-daughters â?? Mary Ann (Jeffrey) Miels of Grand Rapids, Minnesota; Jheri (Georgina Cantoni) McMillan of Dallas, Texas; His Daughter-in-law â?? Nila Hetteen of Grand Rapids, Minnesota; Numerous Grandchildren, Great Grandchildren and Great Great Grandchildren.
Visitation will be from 12:30 p.m. until the 2:00 p.m. Funeral Service on Saturday, February 19th, at the Grace Bible Chapel in Grand Rapids (2452 County Road 76). Pastor Charles Nelson will officiate. Burial will be in the Harris Cemetery in Harris Township, Minnesota.
Arrangements are by the Rowe Funeral Home in Grand Rapids.
Godspeed Edgar.