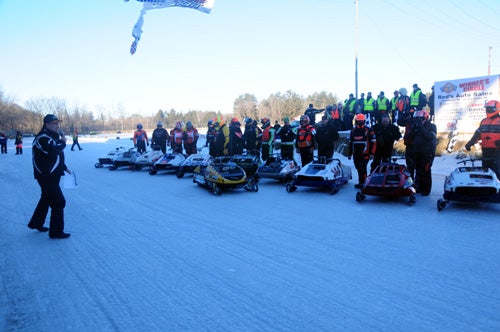 Last weekends Woody's cup race in Ironwood could well be a preview of things to come in the Super-Mod Free-Air 440 Championship this Saturday in Eagle River. What we saw last weekend was a lot of new blood on some very fast machines.
Brandon Gentz is the returning champ; His 440 was smokin' in Ironwood, the result of a lot of motor work done over the summer and fall. He's a smart, steady driver. Always patient, yet determined to find the space to make his move.
Adam Hagen showed some real speed during one of his heats on his triple 440 Cat (yes, a triple). Only a bad start in the final kept him from being up in the front of the pack. Mark Anderson is back (didn't that guy retire?) and was going very fast before crank problems stopped him. He's working on the motor this week to join the rumble this weekend.
Troy Lange from the Heel Clicker team has a new machine with some innovative chassis changes, and he's more than in the hunt. Bill Stull was in the front of the pack of every race he was in last weekend. With motors he ported himself, he appears to be on the verge of something big.. or as Mike Smith put it: " Bill Stull is a big win waiting to happen!"
Tom King and Mitch Pankratz were right up front as well. And then there's the guys were not in Ironwood – Jeff Lausten and other Yamaha Drivers, and Although Freddy Smith wasn't in the final in Ironwood, you can bet he'll make it for Eagle River.
Oh – and Matt Goede has been working on his 340 all week – he plans to enter the 440 race in Eagle River this weekend. Hold on to your hats folks, between all these top-notch guys, this is going to be an amazing show.
Pictured above is the starting line-up for the Ironwood Woody's Cup. Note Ski-Doo legend Steve Ave out in front, who lead the boys on a parade lap before the race.