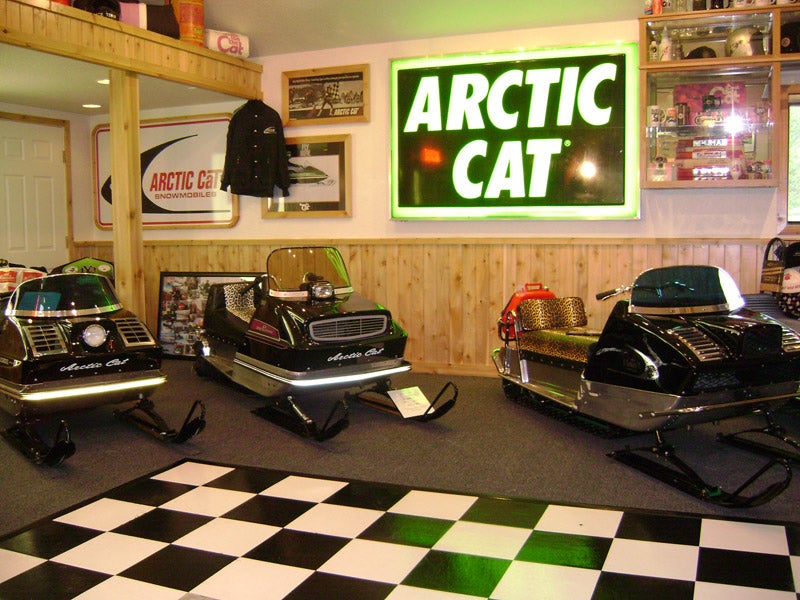 Normally in the Heating and Cooling business around Saginaw Michigan, David Shark has been collecting sleds with his friend Jeff Johnson since 1994. His first sled was a 1971 Arctic Cat Puma with a 340 JLO that David still owns to this day. David has been restoring sleds since he started collecting and has recently started restoring for other people.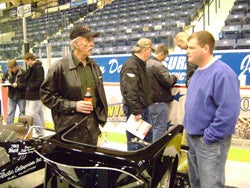 David's latest restoration is a 1967 Arctic Cat Panther drone sled. This is one of six produced with a 4 cylinder opposed air craft engine. While he was at the VSCA Nationals this past spring, Ken Beito (pictured with David at right) was there and confirmed that he built 6 of them and raced them along with other members of team arctic for one season. He said they were about 25 hp and had a lot of low end torque. Ken Beito also said that he attempted one of the high jumps with a drone Panther.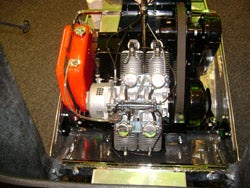 This particular sled was delivered to Carl's Boat yard, an Arctic Cat dealer in St. Charles, Michigan in 1967 where they raced it. The original motor blew up and was replaced with a Kawasaki twin. David had heard about the machine from some of the local boys in the area but no one knew what happened to it. They all thought it was in the building when it caught fire in 1972. But in 2004 David got a phone call from a guy looking for a 1973 ElTigre gas tank and after talking with him I found out that he had the 1967 drone panther that had supposedly burned up in the fire!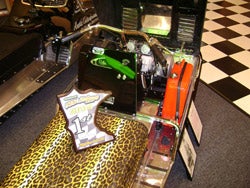 The person on the other end of the phones was the brother in law to Carl (the owner of the Cat dealership) that had the drone back in the day. David went over to his house and looked at the sled and could not believe it.
"I knew what the ID tag should read because Jeff Johnson also has one of the drone sleds ID tag says p32h. We made a deal and I brought the machine home with me." David said.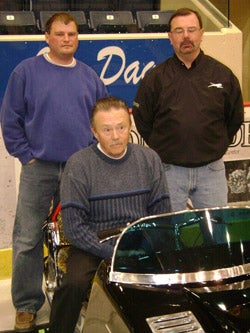 Immediately after getting the sled home, David was on the search for parts – mainly a motor. He was lucky to have found one from a friend in Canada. After the engine was found the sled received a complete restoration. David finished the complete restoration with a lot of help just in time for the VSCA Nationals where it took first place in its class. It was a show stopper. People couldn't stop talking about it, nor stop taking pictures.
At right: David, Jeff Johnson and 1969 World Champion Roger Janssen.
David is still amazed that all along this sled was just 10 miles away from his house in Hemlock MI. It was also only about 10 miles away from the original dealership all of those years and hardly anyone else knew it!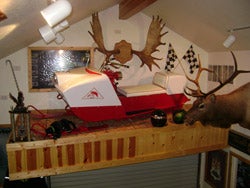 David is also going to do some more racing. Last year he started racing at Eagle River with the Smith Brothers. And if anyone can infect someone with the racing bug, it would be the Smith Brothers. So David is hooked and will be at Eagle River again.
David is interested in doing restorations for other people. He does outstanding work and though he's mainly an Arctic Cat kind of guy, he would love to look at doing some other brands. Feel free to contact him.
Email: [email protected].
David Schark, VSCA #895