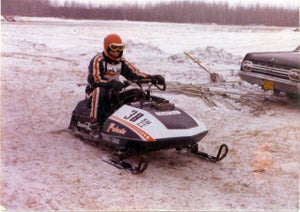 Here's an interesting local Beausejour, Manitoba sled. This machine was built by a local racer named Dave Shack. An innovator and thinker, Dave built this independent front end machine from a 1976 TX Starfire chassis.
The Starfire had the 340 liquid kit engine and Dave installed the front end of his own design. The sled has a trailing arm construction with a single "V" or "A" arm on it's side, and a hydraulic shock/spring. This machine did very well against leaf spring competition locally.
It was a handful to drive and maintain as it was ALWAYS being tweaked for better handling. I can remember him working on it at Tyndall garage and it was quite impressive. Dave raced this sled during the '76-'77 Manitoba Snowmobile Association season. In late '77 Dave bought a new RXL which is now in my possession.
The question is: Where is it now?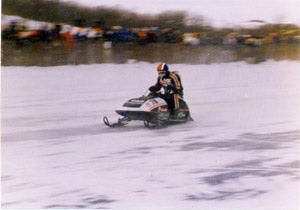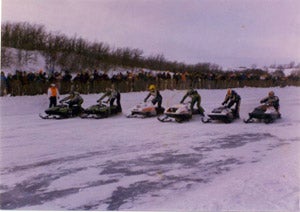 Story and photos contributed by Dale Neduzak of Time Benders Garage.