Then might I suggest that you head on up to Eagle River WIsconsin this weekend for the Reunion, show, swap and drag race at the historic Derby Track. Not only will you get to see some good old iron, you'll get to see the two hummers right off the restoration table of Kurt Krueger and Pro Vintage Performance. I don't know about you, but I have a soft spot for Moto-Ski Bullets. This one was literally finished up Wednesday night at 10:00 after Kurt got in a whole lot of Quality Garage Time (QGT) on it.
This baby is a 650 Red Barron Hirth version of the Bullet, approximately 1 of 5 that we know of to exist with that motor. The motor was a NOS out of the box never been run!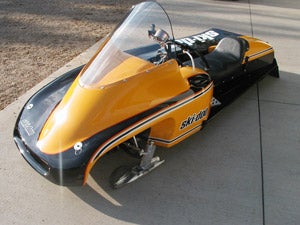 The next sled is a 1991 Ski-Doo twin tracker, serial number 14, with an NOS set of glass. It once belonged Chuck Villenueve (no relation to Jacques I am told). It has a 340 sand cast RAVE Rotax in it, has the high-curve ignition in it that Kurt was sorely tempted to borrow for racing but refrained!
You can see both these sleds and a whole lot more at the show this weakened.
MINNESOTA DISCOVERY CENTER EXHIBIT ON SNOWMOBILES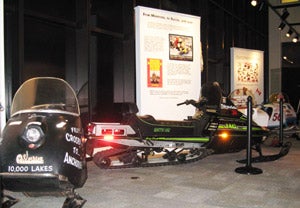 From September 19th to November 29th of 2009, you can see a special display at Chisolm Minnesota's Minnesota Discovery Center entitled Iron Dogs: Snowmobiling in Minnesota is a homegrown exhibit celebrating one of our favorite pastimes. The press release says visitors will get to know the entrepreneurs, engineers, explorers and individuals who created and grew Minnesota's connection to snowmobiling.
Sleds displayed include a replica 1918-1920 era "wheel thing" and an original 1951 Eliason. Other machines include the 1962 "Polar," the precursor to Arctic Cat, a 1964 Trailmaker and the 1968 Ski Doo used in the first successful snowmobile expedition to the North Pole. See the 1966 Scorpion that went from Crosby to Anchorage and the 1989 Arctic Cat JAG that traveled from Minnesota to Russia. View many other machines by Polaris, Arctic Cat and Ski Doo, plus a "Ranger", a Model T on skis, and much more.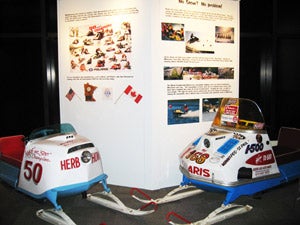 Even visitors who see snowmobiles and wonder what all the fuss is about will find something of interest in Iron Dogs, which includes a full slate of programming and related events, from the VIP gallery opening September 18, to guest speakers, a snowmobile safety course and folk arts demonstrations. Exhibit programming includes the film Trailblazers, a two-part look at snowmobile manufacturing in Minnesota.
For more information, contact the Minnesota Discovery Center at (800) 372-6437, vist the website or email them.