What's 22 feet long, purple & black, goes 168 MPH, has Chevy 327 motor in it and is featured on the back cover of Snowtech Magazine's first book "Racing's Early Years"?
Ladies and Gentleman, allow me to introduce you to the one, the only, <<drum roll please!>>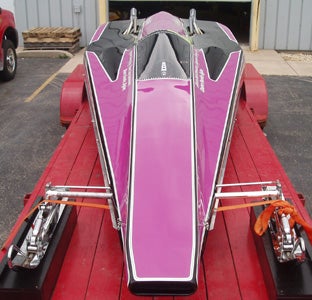 Restored and Running! The BOSS CAT II.
See it in St. Germain Wisconsin this coming Sunday!
For weeks now I've been telling everyone that the Hall of Fame benefit in St. Germain Wisconsin will be featuring some of the most unique, interesting, exotic, and super rare sleds ever to have been built. All on display and helping to raise money to support the Hall of Fame in its never ending quest to preserve the history of our favorite sport. The Boss Cat II absolutely falls into that category. Maybe it defines the category.
This has to be on many lists as one of the coolest 'sleds' ever built. Cat created this beautiful machine in 1971 for the 1972 season. The Boss Cat II set an initial record of 127 MPH with Dale Cormichan driving and later went 130 MPH with the late great Charles Lofton. It was the subject of much controversy at the time, as many people felt it was not really a snowmobile, but a car with tracks and skis. Never the less, it gained the title of "World's Fastest Snowmobile" and was a very successful marketing tool for Arctic. Everyone likes to feel proud about the product they bought, and if you bought a Cat back then, one can image it was quite easy to be proud of Cat when they built stuff this cool.
So what ever happened to the Boss Cat II? Racer Paul Groth bought it from Arctic Cat in in 1983 when Cat went under. Paul repainted it, took a lot of weight off, modified the motor and drove it 168 MPH.
Sometime later, Paul advertised it in Snow week (for sale: one used Boss Cat II) and sold it Vaughn Spurlock. Vaughn kept it for 10 years to go along with his matching Boss Cat III. Both sleds were sold to Rod Everts who held on to them for 10 years. Jim & Keith Warnings bought both in 2004 and have been working on the restoration until this point.
And restore it they did – not only was it painstakingly put back to the original color and details, but the new owners got it running ("we can't wait to drive it!") and will be able to take it down a strip or two in the winter of '06, just shy of the sleds 35th birthday.
Click here to see some more photos of the sled over the years. Come see it in St. Germain Wisconsin this Sunday!
Speaking of the Hall of Fame show – there are people coming from Alaska and Maine to see this show. All I can say is "wow!" and safe travels to those making the hike!