I took some comments to heart on the Bull Session that there is just too many race sleds on this page. In my defense, that's largely because that's what people send me. Since I had no interesting trail stuff to post, this weekend I set out to visit some people that would have some interesting trail sleds to feature, and boy did I find some Barn Fresh stuff!
I'm not going to divulge where I saw these beauties, but I bet a whole bunch of you will know. Let's just say the current owner of these sleds has been collecting snowmobiles long before anyone ever uttered the word "vintage", he has a very cool shop, display room and a very cool entertainment room that I'm sure has lead to many nights of fun "bench racing".
Here's just a sample of the stuff I found in just one barn (out of 3). More to come before we reveal this collectors name. I will add he's a heck of a nice guy and was a great host, and I'd like to say thanks to him for letting me hang out there!
If you have some some photos of the trail sled you love, send me a good picture and or a story about it, and we'll show it to the world!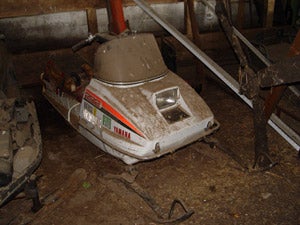 This 292 Yamaha looked like a good cleaning could bring it back to life!
This Cheetah just needs a seat and some love.
Pretty complete Scorpion.
Can you guess what this is?? Hint: These motors never came in King Kats.