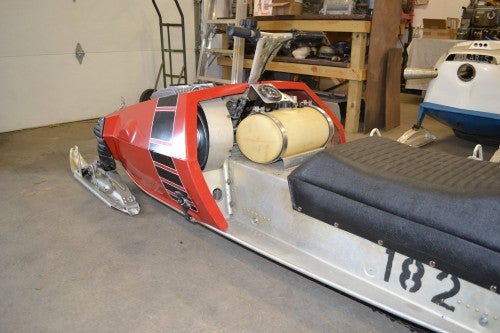 1973 was a great year for almost every manufacturer when it came to race sleds. All of them were pretty darn good and no one had totally domination. Rupp, Arctic Cat, Ski-Doo, Sno*Jet, Polaris, Alouette and everyone else had machines that were on par with each other, and pretty much anyone with an inclination towards racing could buy one. Today, any of these sleds are amongst the most sought after collectible sleds for just that reason.
One that really captures a lot of people's attention is the Alouette Super. I'm sure that Gilles Villenueve's win in Eagle River in 1974 with an Alouette Super has a lot to do with the legend of the Alouette, but a lot of people did very well with them in 1973.
Nick Youker found this gem of an Alouette Super 440cc race machine in pieces not so long ago and wanted to get it restored to it's former glory. He engaged the services of Paul's Garage in Ramsey, Minnesota a few months back and Paul went to work.
At first, the idea was to try and restore it back to what it looked like when it came from the factory back in the day. But Alouette's have a special challenge that they share with Sno*Jet ThunderJets: an anodized, aircraft aluminum tunnel. They can be painted to look really, really good, but they don't look original that way. When Paul got all the parts cleaned up, he came up with a better plan.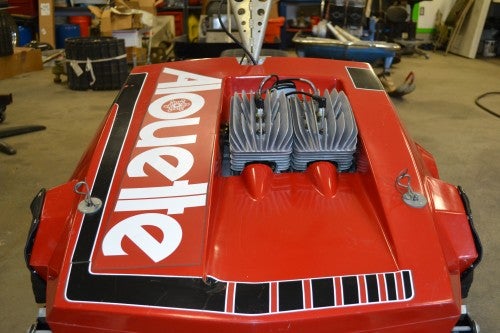 After looking at all the parts, one thing was clear: All the parts with the sled were the more than likely the exact parts that had come off the same sled. The hood, seat, tank, motor, pipes, track, suspension and skis could easily be identified as probably being the originals by how minor scratches lined up, where things were cracked a little, and from what little history they had on where the sled came from.
Paul called Nick and advised against going to far with the restoration. Instead, he thought it would be better to just clean it and put it back together and maintain it as a fantastic survivor. Nick agreed, and Paul had the sled looking like this in no time.
Personally, I love this. Except for some missing driver numbers on the hood, this is probably how this sled was last run. How cool is that? And speaking of the driver numbers, Nick would really love to know if anyone might know who drove this Alouette with the number 182 on the side of the tunnel. If you have any information on that, please contact him.