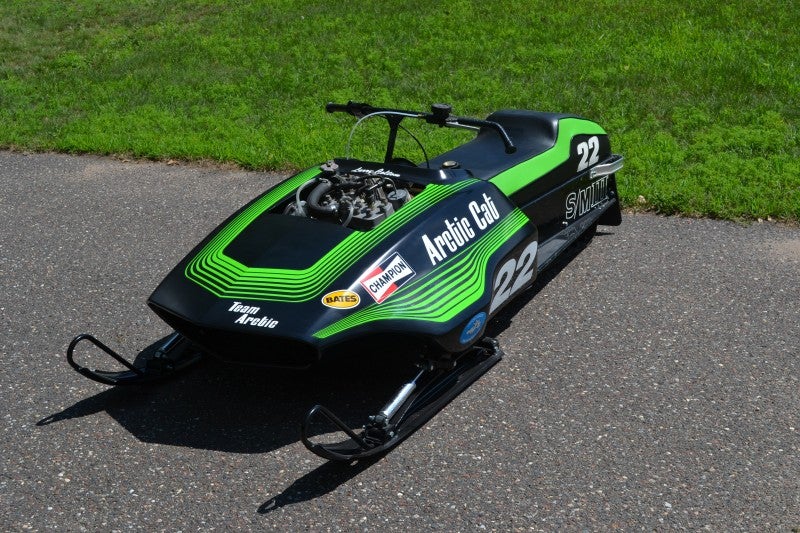 Davey Thompson was kneeling over a sled in Greg Spaulding's garage in Thief River Falls, Minnesota last spring, focusing hard on the front cross member.
"Larry, this is your sled!" he said as he looked up to his former team mate and life-long friend, Larry Coltom.
"No it's not" Larry said. "Mine had a steel re-enforcement in the front cross member because the magnesium kept breaking."
"Yeah, and this one has that!"
Larry dropped to his knees, scrunched his eye-brow and then opened his eyes wide. "Well look at that…" His disbelief was obvious.
"How did it ever get out of Arctic Cat?"
With Larry's statements, one of the biggest, most important questions about what happened to one of the winningest Cats in SnoPro history was answered.
When I got into this hobby, I was always fascinated with the '76 Cats because they were winners – big winners. Despite a massive Ski-Doo budget and the best efforts of all the other manufacturers, Cat came out on top in the 1976 SnoPro circuit in a very big way.
But what happened to the sleds after 1976? "They were all crushed. We didn't want anyone driving them with that magnesium bulkhead." Larry said. Thompson confirmed it.
So how did this one get out? Enter one Paul James. A restoration guru from Minnesota with a bloodhound like ability to hunt down history. The sled came from Arctic Cat during their 1982 liquidation into the possession of one Gordon Rhode. Gordon sold it to Darnell Nuhn many years later. Brad Warning brought it back to Minnesota and cut James loose on it. It had to be something. There was only one other 76 Cat anyone we knew of known to have a mag bulkhead.
Paul came over to my house one day and with an air of unshakeable determination, determined to look through the stacks of boxes of pictures I had been tucking away. Hours later, he found what he was looking for.
This exact sled, being worked on in the pits, in 1976. And the promo pictures from 1977. "Take a look at this!" he said, shoving the pictures on my desk. It was clear that the sled used in the 1977 promo shot was a 1976 SnoPro with some cosmetic updates. After spotting some very easy to identify scratches, rivet holes, decal placement and tunnel oddities, it was clear to me that the 77 promo picture sled and the one from Darnell Nuhn were in fact, one in the same. All keys to discovering the sleds true history.
Once that was figured out, it was on to the restoration. It was decided to do as little as possible to the sled. Really. Larry Coltom was adamant that the tunnel not be powder coated, because they were originally painted. Only minor paint touch ups were necessary. The hood had to have new decals put on it and then a new seat was added. The motor, pipes, track and skid were just cleaned and put back into it.
But how did it not get crushed? Simple. The marketing department borrowed it for the promo shots, and somehow, it never made it back to the race department. Neither did the other one with the mag bulkhead that was used as the 1977 ArCan promo sled. I suppose you could say we can thank the marketing department for accidentally saving a very real and awesome piece of Arctic Cat History!