DONE! At 10:30 AM, I finished the 77 Leaf spring SnoPro! The sleds are all packed, and we (Jim Haug and his father) are on our way in just minutes! Where's the photo, you ask? You'll have to come all the way to Roseau this Saturday to see the leaf spring – live an in all her glory.
We'll have 25 race sleds on display, the biggest display of it's kind ever. Starting with an original 1964 Eagle River K-95 racer, through 68 racers, a 74 SnoPro, a 75 PDC, a 76 SnoPro, not one, but 2 of Jerry Bunke's sleds, the only twin track Polaris ever built, and finally Terry's high point 2004 Champ sled.
I've been looking forward to this for years! Please stop up and say hi!
12:21 AM, 6/17/04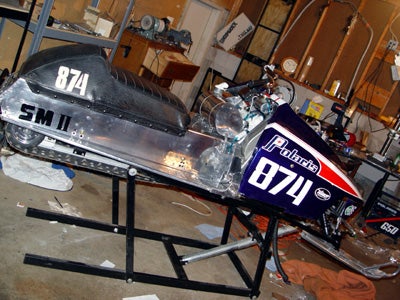 10:18 PM, 6/15/04