It's hard for me to believe that the Vintage SnoPro Series has been around now for six years. I think's that's a longer consecutive run than the original series! I want to first thank the sponsors, the promoters, the track owners, the racers and Bill and Becky Stull for keeping it going. I enjoyed watching every lap.
Like the two years before, this years winner again comes from Wasilla Alaska, which is mostly known as the home of a former governor turned former vice presidential candidate. It's a small town of about 8,000 people. Anchorage is the nearest big city, clocking in at a mere 300,000 people.
Adam is the son (and now race team partner) of last years winner Mike Smith. Years ago Mike married Sandy Hagen, who at the time had four year old Adam from a previous marriage. Sandy and Mike agreed that Adam would keep the last name of Hagen so that the family name would survive. All the more reason for Adam to be chasing girls rather than racing snowmobiles, but that's another story.
Adam is just 22 years old, making him the youngest to get his name on the Hall of Fame cup. In the days before Adam started racing, he spent his days like any other teenager: playing video games, hanging with his buddies, and wishing he was chasing girls instead.
Adam first came down from Alaska in February of 2006 to celebrate his birthday with Dad, uncle Steve and cousin Sean. The trio was down here in the lower-48 racing, and Adam got his first view of what it was like. The first race he watched was in Strathcona, Minnesota. He thought it was different from how he had been spending winters and it looked fun. At the time, he had just turned 18. He wanted to try it that day, but was too concerned he would break something.
This year Adam came down way ahead of the racing season. He's attending his first year of college at North Central Technical college in Wausau Wisconsin. There he's studying to get a degree in business management and to get his certification in welding. But every winter since 2006, he's been racing. "School doesn't get in the way of racing. Most of the races fit neatly into my winter break with only Garrison and Beausejour getting in the way of school." The schedule for the series worked out nice for the two-man Smith Brothers Racing team.
In 2007, the race team came down with Adam in tow. The team rented a huge warehouse and combo living space in Sauke Center Minnesota that became the Alaskan "man-cave "complete with AC/DC posters, a microwave and posters of all their favorite young ladies. Adam started on a 250cc machine, but not your ordinary 250 starter sled – this was a superstock 77 Arctic Cat Z with mod cylinders. His very first race was a qualifying race at the most challenging track in the all of snowmobile racing – Eagle River.
"In the first 400 feet of my racing career my machine high-sided and my boot was in the wrong place. I couldn't move it to hold the sled down. The sled rolled over and went ¾ of the way up the track. Me and the sled were fine, just mildly embarrassed." The race was restarted and Adam ran away with his heat race. When the final race was run on Sunday, the Eagle River announcer had a little fun and played the 1959 song North to Alaska from Johnny Horton over the loudspeakers. Unfortunately for Adam, his sled died before the race even started.
Over the course of the next two seasons, 2008 and 2009. Adam continued to drive his 250cc machine, modifying it, working on it and tweaking it. In 2009, Adam was starting running more classes aboard a 340cc EXT free-air.
There's no question that black Arctic Cats from Wasilla have dominated the series. How? One word: Perseverance. With more machines, running more classes and competing in more races, they were damn tough to beat. Steve and Sean would again not be joining the team again for 2010, so Mike and Adam would going at it alone – with plenty of help from friends. Chris Golat and Perry Dicus were helping with the fleet of sleds at almost every race this past year.
Last year Adam really wanted to help his Dad win the SnoPro series however he could. This year, he wanted to help his Dad to do a repeat. But a change in the rules (from picking three classes to just two) meant that Adam had a real shot at least with his very hot little 250. "But I really did want dad to be a two time champion. That would have been cool."
Adam would race his 1977 250cc Z again, this year, a 1973 295cc free air EXT and a 1973 440cc Free-air EXT. Mike would run a 1977 340cc Z, a 1973 340cc EXT a 1977 440cc Z, a 1973 440cc EXT and a 1973 650cc EXT.
All the chassis work was done already by Steve and Sean, & Mike did all the motor work during the season. The liquid motors were built at Mike Wiendandt Performance, and the free airs were done by Keith Badour of Challenger Performance. Adam did whatever he could, where ever he could. Check oil, Sharpen studs, and fix broken parts in between races… with that many sleds there is is always work to be done. Also the 440 EXT that Adam raced this year was a combination build by Adam, Sean and Steve. Sean and Steve had previously modified the bulkhead and welded it together three years previously. In 2010, Adam took the chassis and started using the skills he learned at welding class, and the fabrication knowledge learned from watching Sean and Steve. With help and advice from his Dad, He widened the front end, rolled the chaincase and did all of the major fabrication on the sled.
Why the love of the Arctic Cats? Mike's Uncle Joe had a cat dealership in the 70's and Mike and Steve raced Cats nearly exclusively in the 70's through the 90's. Cat is a passion, a way of life and "just the way it is" for the Smith Brothers.
Race day for Adam consists of getting straight to the track – with no breakfast. Neither Mike nor Adam found the ability to eat with the adrenalin that starts to pump the minute the alarm clock goes off. Once at the track, a ton of sleds must be unloaded, registration must be taken care of (picking classes with that many sleds can be a little challenging) and the continuing work on the sleds keeps them jumping. Adam likes to race to get the experience any way he can. "I Like racing. I like being out on the track and I love the experience of racing. So I look to sign up for as many classes as I can to get as much experience as I can."
Once on the track, Adam always looked across the starting line to see who he was up against. He gets butterflies from the staging lane to the starting line. "Gotta get a hole shot. What's the first corner going to be like?" are the thoughts that keep his mind flying. Adam preferred lining up as far as he can to the outside. That way no one can swoop down in front of him, and it lets him watch the field going into the corner so he can swoop underneath of them should the opportunity arise.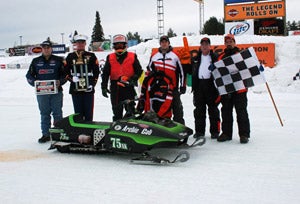 Once the race starts Adam describes the feeling as: "Zen. Everything to me kind of slows down. I can sort of see everything in my mind much clearer than moments before. It's kind of surreal. I love racing in traffic. Passing people is a huge high. Racing is very calming to me. I talk to myself and push myself."
During the race, Adam checks the track on every lap. "I'm looking at every line to see where the best one is. If I see someone else found a smooth line, I might follow him for a lap or two." He doesn't spend a lot of time tuning, like some drivers, once the race starts. "I keep a tab on what the motor sounds like, but I don't spend a lot of time looking at the tach, Especially on short tracks – you just don't have enough time to look."
The races this year went from Rock Rapids Iowa, Amherst Wisconsin, Eagle River Wisconsin, Sauke Centre Minnesota and finished up at Garrison. After Rock Rapids, the title was up for grabs between Matt Goede, Matt Spies and Devin Fackrell. But After Amherst, Fackrell took the points lead and Adam and Mike were right behind. Coming out of Eagle, Mike was first, Adam was second.
At Eagle River, Adam hit one of the biggest goals of his racing career: He won the 250cc Super Mod Liquid class. "I was in third behind Scott Coates and Trevor Spokely for a couple laps. After the second lap I was trying to pass on the outside but Coates was pushing out. So I tagged my brakes and cut underneath and was able to get in first and hold it till the end." How did he feel after that? "I achieved the one race I really wanted to win in my racing career. I'd always had bad luck in that race and I finally nailed it!"
After Eagle River, most of the drivers tend to relax just a bit. Eagle is the high-pressure race where everyone wants to do their best. After it's over, "It's the biggest race of the year. We let out some air after that and we look at it as the SnoPro season for the rest of the season – we stayed focused on that."
After Sauke Centre, Adam took the lead in the series. "I probably wouldn't have taken that lead, but Dad had electrical problems in his 340."
Garrison was the final race of the year, Adam had a tough race, not winning any classes, but placing in the top of all of them. Mike had just about the same day. But it didn't matter. They had amassed enough points earlier in the year so that no one was going to catch them. "We knew what I needed to get for points to win. Fackrell and Dad had missed a lot of points – so I knew what I need to do to win."
By the end of the day, everyone started congratulating Adam and he knew he had won the big one. "It's pretty cool. In the SnoPro series, the big names come out. You gotta beat the Pankratz's, the Goede's, the Stull's, the Fackrells, Kitzman, Karrow and many other really great guys who are also really great drivers . It feels pretty cool because I was able to hang on throughout the year with the best of the best. Winning it takes skill – and a lot of luck – and I got lucky this year!"
Adams name will be added the Snowmobile Hall of Fame cup on display at the Hall of Fame Museum in St. Germain, and he will get his big Cat-themed trophies this year at the Hall of Fame Classic Sled Roundup in May.
Adam joins past winners Mark Anderson, Jay Sperry, Steve Smith and Mike Smith.
Adam's biggest motivation was that he wanted that cup to have the whole bottom row of that trophy have names from Smith Brothers Racing – or all Rachitic Cat on the bottom row of that cup. Job well done Adam!