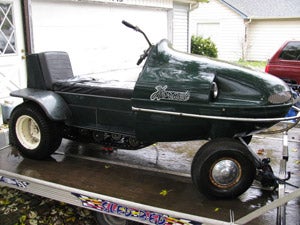 Here's the info on my latest find. It's a another 1969 Hornet but this one has the wheel kit.
I've been hunting for one with the wheels for a while now and fortunate enough to call on this one at the right time. The connection to this sled started some 5 years ago not long after I bought my first Hornet. I had seen pictures of this sled on the net with the owners name. With a little searching I found a couple of phone numbers and called to see if I could find out anything new about the Hornets or the company that made them, Jet Dynamics. We talked for a while and as far as my poor memory can recall that was the only time I talked to him, until two days ago.
Fast forward to a couple of days ago, when I got a call from Les Pinz. Les and I have talked now and then over the years, mostly me asking questions about Scorpion or Polaris sleds but this time we got to talking about Jet Dynamics and he asked about the serial number of my Hornet. I looked in my "secret" sled info binder as I new I had written it down but as I do often, didn't write it down in the section marked "Hornet". I new I had it somewhere so after we hung up I started looking through my notes.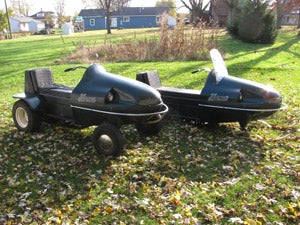 I found the serial number along with some other Hornet info and a couple of phone numbers. I had forgotten all about this sled and remembered that when I called years ago it was sitting in the barn with the wheels on it. Since it had been several years since I called I thought I'd see if it was still around. I couldn't remember which was the correct number so I called the first number, answering machine, left a message hoping someone would call back. I called the second number and gave my name and why I was calling, he laughed and said that's my dad you're looking for and thought he still had the sled. It turned out that I had already left a message at his dad's so I'd wait and hope to get hear from him.
It wasn't 20 minutes later the phone rings, it's the first number calling me back. Either I'm going to get chewed out for bothering him or I'll actually get to talk to another Hornet owner. We talked for a few minutes and I asked "is there any chance this sled is for sale?" He said "Sure. I've been thinking about getting rid of it for some time now". Talk about calling at the right time!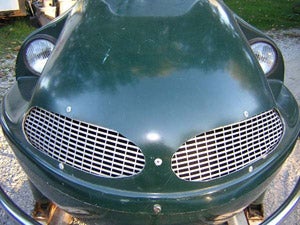 We worked out the deal and I left the next morning to go pick it up. I didn't want this one to slip through my fingers. I left Pittsboro at 4:15 AM and made it to Minneapolis just before 1:30pm, 595 miles.
What a beautiful sight it is to pull in the drive and see this machine sitting there all wheeled up just waiting for me. As all good sled transactions go there's always stories traded and this was no exception. As cool as this sled is, it was the only one he ever owned but he was into just about everything else that had an engine.
It was a great trip and this checks one off the very top of my "Gotta Find" list.