The Best Of the Decade
Twice over the weekend I had an opportunity to say some words to the all of you who visit this website all the time, and those of you who participated in this past weekends events. As usual, I did not take the time to prepare some remarks and to really say how much I appreciate everyone who visits this site and makes it the biggest and best. Thank you!
This weekend was a blast. First off, I think there is universal agreement that the Ogilvie racetrack may well be one of the best facilities ever for vintage racing. The group from Classic Sno Machines did a great job of organizing and handling the show. The ride on Sunday was on fantastic snow and miles of smiles… and my sled actually made the whole run!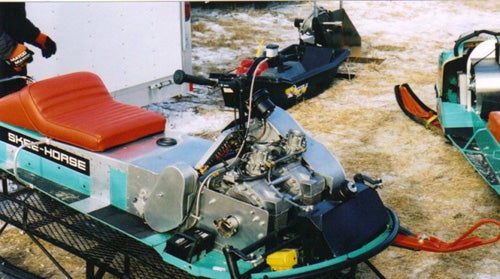 The judges were in near universal agreement on what sled to choose for the &quotBest Of The Decade": When thinking about all the sleds that have been on vintagesleds.com over the past 10 years, one stood way out. Roger, Kelly and Pete took a 1970 Johnson Skee-Horse, and turned it into a twin-rotary engine monster machine that chewed up nearly every racer who dared line up next to it. While building a motor that didn't exist was a tad controversial in 2003, no one could deny that the sound of this sled was enough to draw motorsports enthusiasts from all over to watch it race, or hear it fired up in a show. It drew lots of traffic to this website. It brought crowds into races.It was talked about. Magazine articles were written about it.
The amount of work that went into this sled to make it work was astounding, and at the time, they had no idea if it would ever work. "The day we got it to fire…" Roger told me this weekend, "we were so freaked out at how incredible it sounded, and how it rumbled the very ground under us, that we had to sit back, have a beer and wonder 'What have we done?' "
What had they done? Created a classic sled that provided not only Team Johnson, but anyone who had the chance to see this thing with a lot of great memories. Roger summed up the whole project as just being "Passion for the Johnson brand, and a passion to beat the other guy."
The swap was a tad low on swappers, but some good bargains were to be found, and I got the opportunity to meet Charlie, who had some great stories about his old RXL as well as other racing stories from back in the day.
In the show, we had a very good display of sleds for a first ever show, and the quality was outstanding. Show winners included Nick Stafford, AJ Emerick, TJ Henrickson, the Holland clan, Doug Tracey and more. I will post the complete results in the Bull Sessions later today.
Saturday's extra money races provided all kinds of thrills. Dave Neuman had been struggling all winter long with his 440 Ski-Doo. It showed signs of life and some incredible speed all winter long, but a series of mechanical failures kept it from finishing, let alone winning. Two weekends ago in Boonville, it was no different. The motor lost another crank, and it was a week of very long nights to get the sled ready for Ogilvie.
The Clark MotorSports team skipped the Friday night races, and on Saturday, it looked like the gremlins were going to make for a long day again. The 250 and the 340 machines both went down to motor trouble. But the 440? It rocked! Dave led from flag to flag in the 10 lap 440X feature race final. Jacob Goede (On a 340cc machine!) and Travis Hilmerson gave it all they could, but it became clear by about the 6th lap that if Dave's sled stayed together, there would be no way to catch him, and that's how it wound up. Suddenly all the long hours and hard work didn't seem so bad, and I think now Dave can officially remove the Rookie stripe from his seat!
Other winners in the money class included Matt Goede who won the 340 liquid super modified class on his 340 F/A Starfire – that is one amazing little sled, winning race, after race, after race.
In the SuperStock open class, it was Curt Peterson on is SRX handily walked away with the $400 top prize.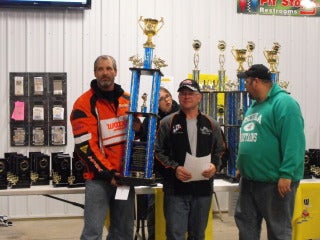 Dave Neuman, winner of the 440X Feature Race
Matt Goede, 340 SM LQ Winner
Curt Peterson, SuperStock open Winner
The best part of the ride for me was that my sled didn't fall apart – in fact, it was starting to behave like I want it. I can pile it into any corner and just throw it around like a rag doll. In several portions of the ride it started to feel a little bit like a race.. and that is about a perfect ride for me.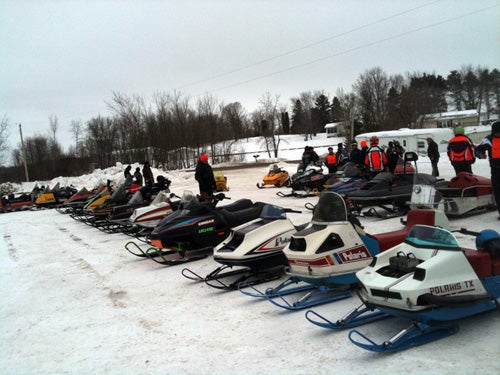 All in all, a great weekend with great people all around… I hope everyone had a good time, and I sure hope there is another event at this facility in the future – it's too good to not put it to use!